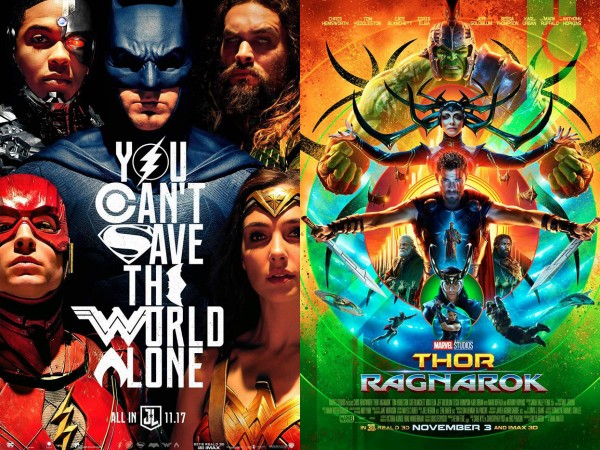 November month sees two crucial releases for two studios – Marvel Cinematic Universe and DC Extended Universe. While the month will be kick-started with Chris Hemsworth – Mark Ruffalo starrer Thor: Ragnarok, fans of both sides will also keep an eye on Justice League's collection, releasing later the same month.
Film trade analysts predict Thor: Ragnarok will kick off on a good note. The film will earn at least $100 million at the domestic box office and dominate the first weekend of November, they said.
Also Read: Thor Ragnarok: Chris Hemsworth almost turned down God of Thunder's role?
With the rave reviews and positive buzz, Thor 3 is said to attract many fans to the theatres. Thor's latest instalment has no other big budget movie releasing along with it, which plays as an advantage. Ragnarok currently holds an impressive 98 percent rating on Rotten Tomatoes.
Earlier, Thor opened to $65.7 million with a total collection standing at $181 million. Thor: The Dark World earned $85.7 million at its domestic market and a $206.4 million final total. With the growing popularity, the film is bound to at least surpass previous records held by the franchise.
The film not only will help increasing MCU's net worth, but also revive the bad October run at the box office. With "It" dominating most of the month and a handful movies winning the box office on weekly basis, there hasn't been much action at the counter last month.
However, the question is will Thor: Ragnarok overshadow Justice League. After Wonder Woman's stunning performance at the summer box office, the DECU has high hopes for its next release. Also considering that it will draw fans to watch how Superman resurrects, it is predicted to have a strong opening.
Take with a grain of salt till official tracking drops next week. Bros I know who cover WB tell me early tracking on #JusticeLeague is good!

— Umberto Gonzalez (@elmayimbe) October 21, 2017
Although the predictions drop next week, The Wrap's Umberto Gonzalez has hinted that Justice League's opening weekend collections will be strong. The reporter tweeted: "Take with a grain of salt till official tracking drops next week. Bros I know who cover WB tell me early tracking on Justice League is good!"
Fans worry that the debacle caused by Suicide Squad and Batman v Superman: Dawn of Justice would impact JL. However, with the success of Wonder Woman, you cannot predict numbers as yet. When Wonder Woman predictions were released, the Gal Gadot starrer was said to open with $80 million. However, the film grossed $100 million and earned more than $800 million in total. So we have to wait to see how the movie performs.
Thor: Ragnarok is set to release on November 3 and Justice League on November 17.