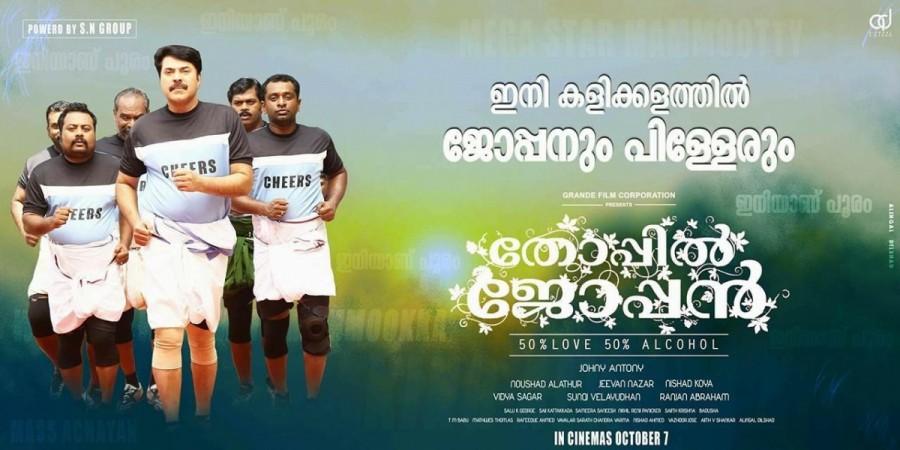 When an overhyped Mohanlal-starrer is getting released, which one can compete with that superstar movie among the Puja releases? Without any doubt, the answer would be Mammootty for the Kerala audience, who are eagerly awaiting to see the big Ms on the big screen.
After a short gap, Mohanlal and Mammootty are set to pit against each other at the Kerala box office on October 7 as the most anticipated movies of the duo -- Pulimurugan and Thoppil Joppan -- respectively, are hitting the screens on the same date.
So, which one would you prefer to watch on the first day? Pulimurugan or Thoppil Joppan?
Here are 5 reasons to watch Mammootty's Thoppil Joppan
Mammootty as Kottayam achayan
Mammootty has many times proved he can shine in Achayan (name used to call Christian men in Kerala), a character the audience are familiar with in the movies Kottayam Kunjachan, Johny Walker, Oru Maravathoor Kanavu and Nasrani, among others. The Kottayam slang used by the megastar along with his stellar performance in these movies were well accepted by the audience, who are eagerly waiting to see movie Thoppil Joppan.
Johny Antony directorial
The movies CID Moosa, Kochi Rajavu and Thuruppu Gulan, helmed by Johny Antony, have created laughing riots in theatres. Even though the filmmaker's recent movies failed to make a mark at the box office, his association with Mammootty is expected to work well this time, as, looking at the teasers, the film's plot looks entertaining. It is the fourth time the duo are joining hands together after Thuruppu Gulan, Pattanathil Bhootham and Thappana.
Hype
Like any big star movie, Thoppil Joppan, scripted by Nishad Koya, is also one of the most-hyped projects of the year. The teaser, featuring Mamta Mohandas, and the trailer that introduces the character played by Mammootty as Thoppil Joppan, have already raised the expectations of the audience from the movie. Most importantly, the Mammootty-starrer facing a Mohanlal movie makes it an important watch for the fans of the megastar. Despite locking horns with Pulimurugan, the comedy family entertainer is expected to perform well on the opening day.
Casting
Mamta Mohandas and Andrea Jeremiah star in female lead roles in the movie, which also stars Kaviyoor Ponnamma, Salim Kumar, Mohan Jose, Saju Navodaya, Harisree Ashokan, Renji Panicker, Sreejith Ravi, Alancier Lay, Sohan Seenulal, Suresh Krishna and Jude Anthany Joseph in significant roles.
Vidyasagar music
The background score introducing Mammootty's character in the teaser has impressed the audience. The songs of the movie, which were recently released in a grand audio launch function, have also been getting good audience response. While Vidyasagar has composed the music, lyrics have been penned by Rafeeq Ahamed.