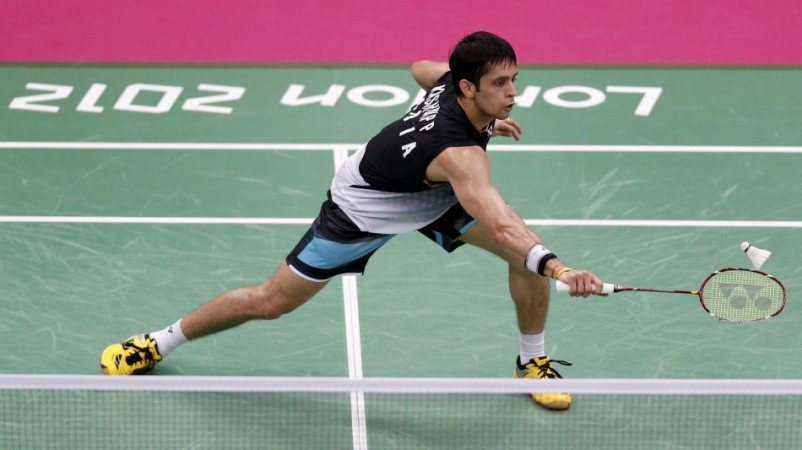 India restored some pride in their final group game of the Thomas Cup beating Germany 3-2 in a thriller at the Siri Fort Sports Complex in Delhi on Wednesday. The Indian men's team is already out of the reckoning for the quarterfinals after losing their first two group matches against Malaysia and South Korea.
RMV Gurusaidutt turned out to be India's saviour and continued his good form by winning the crucial third singles for the Indian team. He defeated Lucas Schmidt 14-21, 21-19, 21-19 after losing the first game to give India a consolation win in the tournament.
Earlier, K Srikanth provided India a good start by defeating world number 13 Marc Zwiebler in 56 minutes 21-18, 18-21, 21-18. This was Srikanth's first victory in the tournament after losing first two matches.
"It was a good experience playing in the Thomas Cup," said Srikanth. "After two defeats, I am happy to win one and finish on a high. I played very close matches against both Lee Chong Wei and Wan Ho Son."
The doubles pair of Manu Attri and B Sumeeth Reddy was outclassed by Michael Fuchs and Johannes Schoettler 21-15, 21-6 to level the tie for Germany. Germany went 2-1 up when Dieter Domke defeated Indian skipper Parupalli Kashyap 23-21, 14-21, 21-14 in the second singles.
Akshay Dewalkar and Pranaav Jerry Chopra produced a brilliant performance in the second doubles to bring India back into the contest. The pair of Dewalkar and Chopra defeated Peter Kaesbauer and Josche Zurwonne 21-9, 17-21, 21-19 to level the tie 2-2.
It was all on Gurusaidutt in the decider and he produced another stellar performance for India after going down in the first game. The Indian clawed back from a six-point deficit to level the second game at 18-18, and then win it 21-19.
Gurusaidutt started the decider strongly and opened a 19-14 lead over Schmidt. The German rallied back and cut the deficit to make it 20-19, but the Indian held on to continue his unbeaten run in the tournament.
"We wanted to go back home on a winning note. It was very important for us," Gurusaidutt said on Wednesday. "Actually, it was a good tournament for us. Losing 2-3 to Korea made the difference. Today was very important to win and we badly wanted to win this tie. We had a tough group and finishing number three in the group was not really bad."
India skipper Kashyap said the team played to its strengths and it was always going to be difficult winning all singles matches.
"Overall three singles players tried really hard," Kashyap said. "That's where our strength was. We had to get 100 per cent result and there was no option of the doubles. So, it was always going to be tough. I would say the team is improving. The players, especially singles, will get better. I am confident that I will also get better."