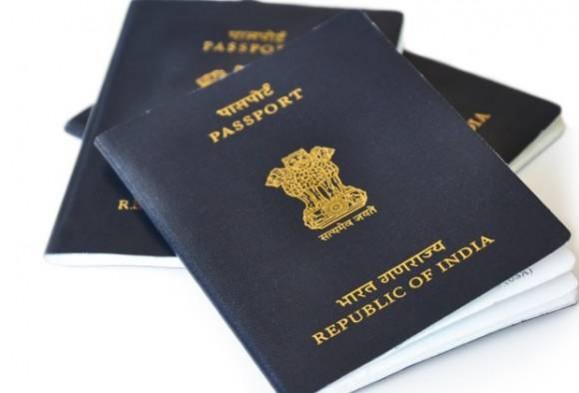 In a major reversal from an earlier decision to introduce different colour passports for Indians who have not passed class 10 and who carry Emigration Check Required (ECR) passport, the Ministry of External Affairs (MEA) clarified on Tuesday that passports will stay blue.
The statement from MEA came after Modi government's proposal to introduce orange-coloured passports for less educated Indians flying abroad was severely criticised by commoners and stakeholders, who termed it 'discriminatory.'
An MEA spokesperson had stated earlier: "As the last page of the passport would not be printed now, the passport holders with ECR (Emigration Check Required) status would be issued a passport with orange passport jacket and those with non-ECR status would continue to get a blue passport."
He had also said that the "the decision to keep the last page of the passport blank has been taken" to protect the details of the passport holder.
Why did MEA change its decision?
If a different passport is issued to those who aren't well educated but are working outside India, they are likely to be treated as ill-educated or of low economic status in foreign countries, a PIL against the MEA's earlier decision in the passport matter read.
Also, several Indians who are working in the United Arab Emirates (UAE) raised serious concerns over the introduction of the orange passport. One among them was Shamsuddeen Karunagappally, who filed the PIL in Kerala High Court (HC).
The HC then issued a notice to the MEA seeking clarification on issuing the orange passport to a section of Indians. The PIL may well be one of the reasons that changed the government's decision.
The petition says
"The move to change the colour of the passport is a grave invasion of immigrant workers' right to privacy and dignity. There is no rational objective to be achieved through this segregation, it is shocking and demeaning," the PIL said referring to Centre's proposed reforms.
The PIL also pointed out that the proposal of a new passport is also a violation of Article 14 and Article 21 of the Indian Constitution.
MEA's final stand on passport
The decision to scrap MEA's earlier decision was taken at a meeting chaired by external affairs minister Sushma Swaraj and attended by one of her two deputies VK Singh among others.
EAM @SushmaSwaraj and FM of #Guyana discussed steps to enhance cooperation in political, trade & investment, agriculture, pharmaceuticals, IT, capacity building, people-to-people contacts, in addition to cooperation in regional and multilateral fora at the delegation-level talks. pic.twitter.com/i6o8vxoCqQ

— Raveesh Kumar (@MEAIndia) January 30, 2018
KV Shamsudheen, chairman of Pravasi Bandhu Welfare Trust said, "As NRIs, we are relieved and we welcome the decision to withdraw the proposal to make two changes in the Indian passport."
"NRIs are also not eligible to apply for an Aadhar (India's biometric identity) card. If not for a passport, we cannot avail any government services," he added.
Many letters, e-mails, and PILS have been sent by NRIs to the MEA protesting its decision to introduce different passports to citizens.
Mahadevan Vazhasseril, president of the Overseas Indian Cultural Society (INCAS) UAE committee said, "It is elected government's responsibility to view all citizens equally, as it is our fundamental right. We are very happy that is has been reverted."