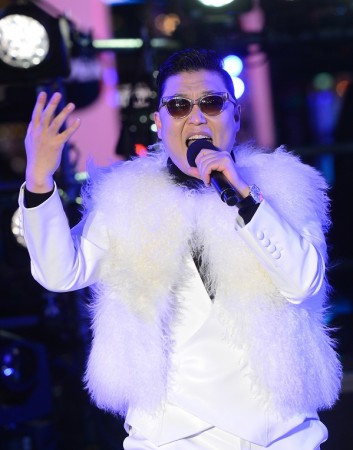 The 2018 Pyeongchang Winter Olympics came to an end with a grand closing ceremony on February 25 in South Korea, with where popular K-pop stars like EXO and CL setting the stage on fire with their performances. The event was a success, but the absence of the Gangnam Style star PSY left the audience quite disappointed.
The singer reportedly refused to perform at the Winter Olympic's ceremony. While the singer refused to reveal the reason, Song Seung Hwan, the head director of the opening and closing ceremonies of the event, said on tbs FM's radio show Kim Eo Jun's new Factory why PSY refused the offer.
Seung Hwan said PSY personally edited and arrange the Gangnam Style track so that it could be played at one of the ceremonies. The edited version of the song was played at the opening ceremony of Winter Olympics 2018.
"I met with PSY. However, he himself was burdened by the thought of continuing to perform 'Gangnam Style.' Instead, we included 'Gangnam Style' when the athletes were entering during the opening ceremony. For that, PSY said he would personally arrange the music, so [the track used] was one arranged by PSY himself," he explained.
The director further said that the 40-year-old pop sensation took the decision because of pressure. He said PSY had faced extreme criticism when he performed at the 2014 Asian Games.
"I think it's quite difficult, being a celebrity. If they perform at some event, people criticize them saying, 'Why did they appear?' and if they don't appear, they're criticized for not appearing," he said.
Meanwhile, fans took to Twitter to support PSY after they found out the reason behind his absence at the 2018 PyeongChang Winter Olympics.
He was criticized during the Asia games (according to the article) and many saw him as a novelty, a joke instead of a real artist. That's really upsetting, no wonder he didn't want to.

— ? (@sobikookie) February 26, 2018
I just want to give PSY a big hug ?. @psy_oppa dont worry too much about people's opinion of you. Youre loved by many. I love how you break the stereotypes of how kpop "should" sound or look like. PSY Fighting ???

— HIXTAPE || D-3 ?? (@BTS_aesthetic_) February 26, 2018
He's a legend, and even though Gangnam Style is iconic, he's much more than that!!

— Mah | #2YEARSWITHWJSN (@MahVocalover95) February 26, 2018
I feel for him :( I remember a recent BB interview he did and they wouldn't stop asking him about GangnamStyle. I'm glad he decided not to perform for himself. PSY is still GREAT

— ? Č I N A ? (@strawverrybunny) February 26, 2018
PSY my man listen up....ignore the hate because people will never be satisfied with whatever others do they will always find ways to chat shitt*|¥ about anything. But ur a king remember that

— EXO ? (@baeklaus) February 26, 2018