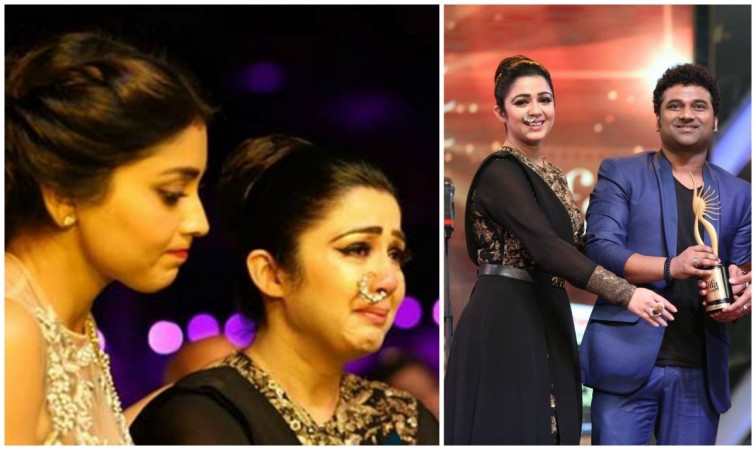 A few days ago, photos of South Indian actress Charmme Kaur crying during the recently concluded first edition of International Indian Film Academy (IIFA) Utsavam were doing the rounds on social media. Actress Shriya Saran was also seen consoling Charmme in the photos.
After many reports carried unconfirmed claims on the reason behind the incident, Charmme has now come forward slamming the rumours regarding the same. The actress has claimed that she burst into tears after singer Devi Sri Prasad performed the title track of "Nannaku Prematho" during the event as a dedication to his father G Satyamurthy, who passed away recently.
"I honestly don't believe in giving explanations. But this time it's seems important. The reason for my tear at #IIFAUtsavam was heart touching song played n performed by @ThisIsDSP title track of #NannakuPrematho dedicated to his dad" (sic), the actress posted on her Twitter handle.
Charmme also mentioned about the attachment she had with the script writer that many are not aware of. She added that being a human with emotions, she couldn't control herself when the song was played on the big screen.
"For the fact tat I shared vry vry special bond vit @GSatyamurthy which no1 is aware ofm I just cud not control my emotions when I saw his song play on big screen on IIFA stage.. All memories vit him pinched my heart. I'm too a human with emotions, Irrespective of every 1's presence I cud not control my tears...," wrote Charmme.
However, without knowing the actual reason behind the emotional scene at IIFA Utsavam, reports claimed that the actress burst into tears as her live performance was cancelled the last minute during the award show. After hearing the fake news doing the rounds, Charmme requested people to handle these situations sensibly. "Now my humble request to all, pls have a heart n pls be sensitive before writing any nonsense, at least in this sensitive situation.. Thanks Charmme Kaur," (sic), the actress added.
Read her complete post below:
— CHARMME KAUR (@Charmmeofficial) January 27, 2016