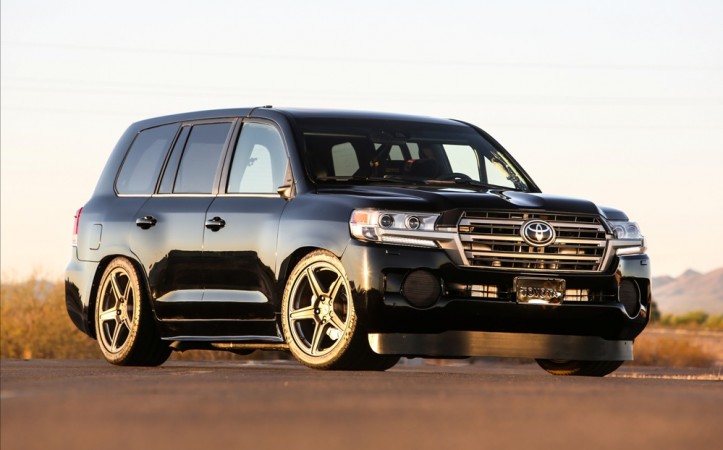 Japanese car maker Toyota unveiled world's fastest SUV, the Land Speed Cruiser at the 2016 Specialty Equipment Market Association (SEMA) Show.
Toyota Land Speed Cruiser is based on the Land Cruiser and it even uses the same 3UR-FE 5.7-liter V8 engine mated to an ATI transmission. However, the powertrain has been souped up with a volleyball-sized Garrett turbocharger that flanks each bank of cylinders and breathes directly through front inlets in the specially designed aerodynamic hood. This enables the engine to belt- out whopping 2000bhp and top speed of 354kmph. This means that the Land Speed Cruiser has overtaken Bentley Bentayga SUV's top speed of 301kmph. The top speed figure in fact will put some of the supercars to shame.
"From the outside, the Land Speed Cruiser appears quite normal, quite subtle," said motorsports technical center manager Chuck Wade, who built this vehicle with his team of engineers. "This is what makes it so special. Every single system and component has been touched. The trick is getting the body back onto the heavily modified frame."
To handle immense power from the engine and top speed, Toyota engineers have reworked the design of the Land Speed Cruiser. The SUV comes with aerodynamic body that's been lowered and fitted with a thick front splitter, a big rear diffuser, a rear wing, and cameras replacing rearview mirrors.
Toyota has not divulged any plan to production of the Land Speed Cruiser at the show. Apart from this mammoth SUV, Toyota also unveiled Tacoma TRD Pro Race Truck fitted with 3.5-litre Atkinson-cycle V6 that sends power to all four wheels. Other important models on display are Prius G Extreme, two-door XTREME Corolla, Toyota Motorsport GmbH GT86 CS-Cup and and wide-body Extreme Sienna.