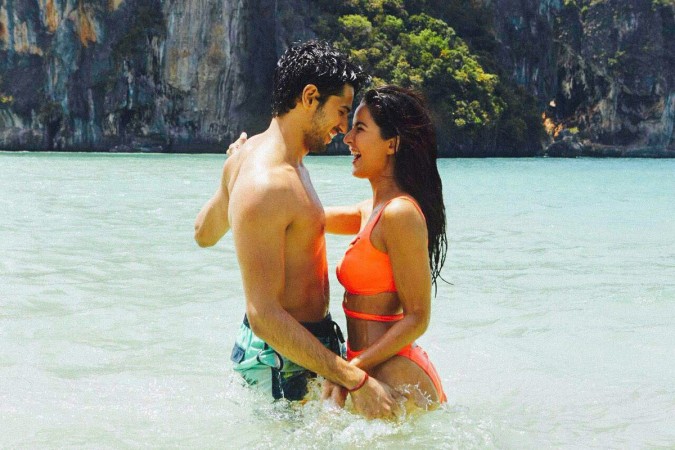 If you have watched the "Baar Baar Dekho" trailer and the film's first song, "Kala Chashma," you would know that Katrina Kaif's washboard flat abs is what is in focus. Sure the videos are fun and interesting, but the leading lady's ripped contour has stolen the limelight.
Apparently, there's a reason she has flaunted those killer (and hard to get) abdomens in both the song and trailer. A source told the Asian Age that Katrina is a "hurting, wounded lioness" who wishes to take on her peers — Deepika Padukone, Priyanka Chopra, Shraddha Kapoor, Alia Bhatt and such — one pack at a time.
The insider said that she wanted her bikini shots with Sidharth Malhotra out because that way she would be able show how fit she is now, and also, all ready to compete with her contemporaries. "She is in top gear now. The 'Kala Chashma' number was meant to display just how much in shape she is to take on the competition," the source further elaborated. Word has it that she had worked out for two weeks to look a certain way for the mentioned number.
This could very well be true. We say this because at one of the recent press meets she was asked how she held up after the split with Ranbir Kapoor, Katrina replied: : "Go to the gym and do some crunches. That's how you deal with it."
If you really want them, this is how you should be doing it:
Eating right and working out regularly, is the only way to a great body. Katrina's trainer Yasmin Karachiwala shared a few tips with BollywoodLife readers, while giving away secrets from the actress' fitness regime.
"We've been only doing Pilates, different sets of Pilates and a lot of cardio. I have been doing a lot of alignment work especially on her abs, focusing more on her abdomen. But having said that, we've been equally working out on her arms and other parts of the body. You know, I keep changing what she needs to do depending on the look that she's giving. But these abs are definitely because of her combination of Pilates and cardio," Yasmin told the web portal.