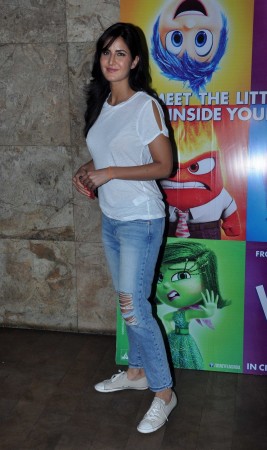 Katrina Kaif and Salman Khan's infectious chemistry on "Bigg Boss 9" grand finale was talk of the town.
While Ranbir Kapoor may not have been pleased with the "Fitoor" actress' decision to promote the Abhishek Kapoor directorial on the controversial reality show, the outcome of it was brilliant.
According to Press Trust of India, the "Sultan" star praised and showered the Brit import with compliments, saying she was the most hardworking actress there can ever be, and also talented. "When one keeps working hard, the talent keeps increasing. The whole country is crazy about you, including me! So, obviously you are talented," the superstar said.
This goes to show the two celebrities are on good terms and will always look out for each other. These two reportedly never had a bitter split, which may have helped them in keeping the friendship intact.
In other news, RK objecting to Katrina's decision to promote "Fitoor" on "BB9" was one of the main reasons they decided to part ways. Interestingly, the hoopla around their break-up is dying a slow death now. Reports suggest the couple had a small fight and such differences are normal in relationships.
This piece of news, however, is confusing as the Kapoor scion threw a housewarming party at his new bachelor pad a few days ago but apparently girlfriend Katrina wasn't invited. This could mean one of two things: The actress was busy promoting her next release with Aditya Roy Kapur across cities, or the pair really doesn't have things going their way.