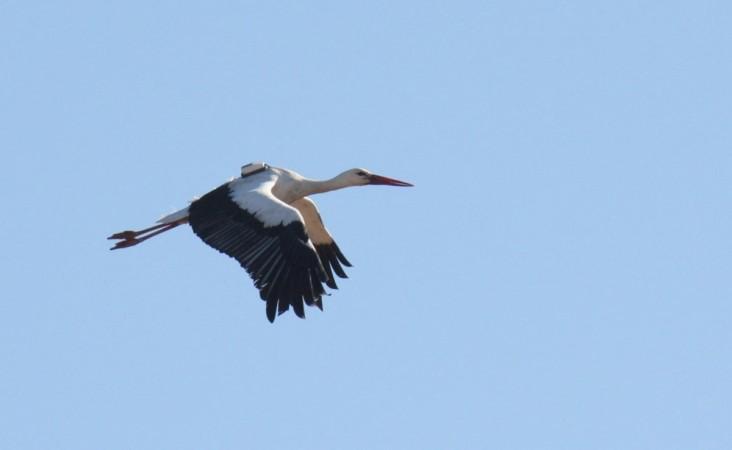 A Polish charity environmental group is on the hook for 10,000 złoty ($2,648) after its GPS tracker device fixed on a white stork was stolen somewhere in Africa. The miscreant started using the SIM card from the tracker device to make tons of expensive phone calls.
Initially, the Polish environmental group Grupa EkoLogiczna placed a GPS device on the back of the white stork named Kajtek, in April 2017, to collect data about the bird's migration route and its feeding habits.
The journey
Like many other storks who nest in Poland in the summer, Kajtek also began the southward migration to Africa in August 2017. On February 1, 2018, Kajtka made the trip back to north again for a European summer vacation.
The bird flew 6,000 kilometers and reached the Blue Nile Valley in eastern Sudan.
Ten days later, Kajteks' movements suddenly stopped. One could assume it was a dead stop since the bird didn't move again until 26 April 2018. This was odd for the scientists monitoring Kajtek's GPS feed.
Later, the group heard that the signal took a circuitous 25 kilometer (16 miles) trip, and then went dead.
Thanks to the SIM-chip transmitter, it could be tracked online to know the movements of the bird. Some 20 odd hours of calls had been made using the SIM card from the tracker in Sudan.
Looks like Kajtek was either taken by nature or fell prey to the internal parasites that can plague storks. Soon, Ireneusz Kaluga, the association's head, declared: "Kajtek probably isn't alive."
The group posted on their Facebook page explaining that "for unknown reasons" Kajtek stayed in the area for over two months, "traveling 25 km in different directions during the day." It revealed finally that "someone quite simply removed the card from the tracker, put it in a phone and used it for 20 hours of communication."
White Stork
Poland, a major center of distribution for the white stork, accounts for 40% of the stork's world population. They are amazing migratory birds which can fly thousands of miles every year from western Europe to as far as Africa.
Their migration is studied very closely by many groups, thanks to the miniaturization of advanced technologies. The bulky trackers which hindered the birds' natural movement and killed them by tiring or by predators are now replaced by small aerodynamic GPS trackers.
Tracking their migration patterns, also made it easier by modern technology to limit the spread of West Nile virus which is very deadly.
But going by the recent incident, maybe the tracker makers should add more security features, otherwise, these beautiful birds would be hunted merely for their trackers/SIM cards.