Motorola's Moto Z line-up of smartphones — apart from being the company's flagship series — is also famous for one thing: Moto Mods. They are basically magnetic snap-on covers that turn the Moto Z Droid or Z Play into a JBL portable speaker or a Hasselblad Zoom Camera.
Now, there's a new Moto Mod from Polaroid that turns the phone into a Polaroid Insta-Share photo printer.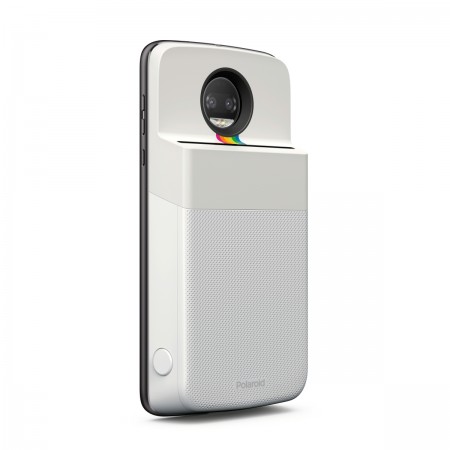 Polaroid is known for its instant cameras that let users click photos and get an instant print-out of the photograph. The new Polaroid Insta-Share Printer Moto Mod is the latest snap-on accessory that lets one take an instant print-out of a picture clicked with the Moto Z.
The Polaroid Instant-Share printer is a small photo printer that snaps onto the back of the phone. It has a physical shutter to launch the camera and snap a photo.
But unlike the Hasselblad Zoom Camera Moto Mod, it does not augment or enhance the phone's native camera. Instead, it has a small opening that sticks out the photograph.
The add-on uses ZINK technology to print 2x3-sq inch photos from the camera roll and also from sites like Facebook, Instagram and Google Photos, without you ever having to carry a second printer.
However, this luxury comes with a price tag of $199.99 (roughly Rs 13,100) in the US and is up for pre-order right now on Motorola.com.
The Polaroid Mod was unveiled way back at Mobile World Congress (MWC) in February this year, alongside another interesting snap-on mod called the Alexa speaker by Amazon, which — as the name suggests — brings Alexa onto the Moto device much like the Amazon Echo smart speaker.