Nathan Gitter, a computer science graduate from Washington University has released Rainbrow, an arcade game for iPhone X which can be controlled by eyebrows.
This game required players to use their eyebrow to move an emoji face up and down on the screen to collect the points which are in shape of stars. The players need to avoid the emoji obstacles like car, basketballs and ducks.
This game is very simple and interesting to play as all the players need to do is raise their eyebrows to move the emoji up, and frown to move the emoji down and to keep the emoji stable, the player needs to keep a neutral expression. It is to be noted that if a player will raise their eyebrows, and keep them raised, the emoji will continue to move in an upwards direction, and vice verse when maintaining a frown.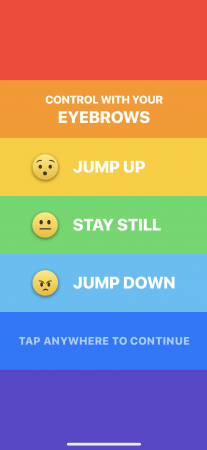 As there are no levels, the game gets increasingly difficult as more obstacles appear. The goal is simply to score the highest possible points, but players can only compete against themselves right now.
According to Mac Rumors, Gitter told us that he plans to integrate Apple's Game Center for multiplayer competition in a future update.
Mac Rumors report says, "Rainbrow is a novel concept since it's an early example of a game using ARKit, an iOS 11 framework that can detect the position, topology, and expression of a user's face in real time using the iPhone X's new TrueDepth camera system."
Nathan Gitter believes that there is a lot of future potential for face-based apps. He also pointed to another face-controlled game which was released earlier this week, Nose Zone, which tasks players with destroying targets by pointing at them with their nose.
After installing Rainbrow, users will get a prompt which asks for permission to access the front-facing camera. As with any app, this option can be turned on or off at any time in the Settings app under Privacy > Camera.
Rainbrow's privacy policy says that depth data is collected only for gameplay purposes, and only stored on the device locally for the duration of a game session. The policy adds that depth data is never stored remotely nor given to any third parties, or used for any non-gameplay purposes.
Rainbrow is free game available in the App Store for iPhone X. According to Gitter, he may add an optional in-app purchase to unlock new emoji characters in the future, but he does not plan on implementing ads into the game so far.