Is your phone constantly running out of space, and you're caught up with deleting pictures and videos to free up some memory? Well, there's some good news for you as Google has been testing a new smart file manager app called 'Files Go' for Android smartphones.
Apparently, Google had silently released an "early access" program of the app on Play Store, but it looks like the program is currently full and has been closed since. However, the public release of the app is expected to be launched soon. But in case you want to download it, you can get it via mirrored APK.
(Note: The app is still in the testing stages so there is a little bit of lag and freezing).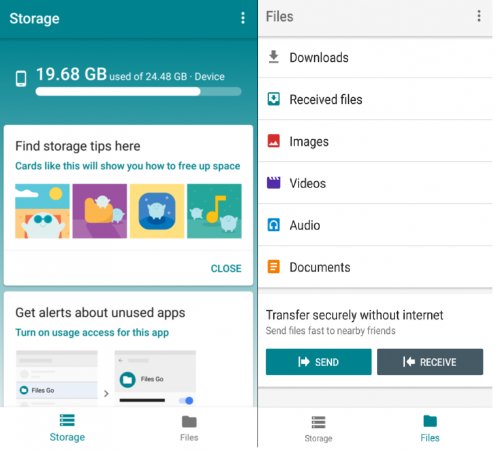 Having said that, the app allows users to manage and free up more space in different ways. It will basically suggest users to remove apps that are no longer in use and also recognises and helps in removing spams and duplicate images from Android smartphones.
Based on what we can see in the screenshots and product description, Files Go will have two tabs "Storage" and "Files." The Storage tab will basically show you how much space you have free and suggest apps, spams, and duplicate images which you might want to delete to free up some more space.
The Storage tab has a card-based interface and these cards show how much storage can be freed by deleting the files and apps. It also suggests you to clear your app caches.
The "Files" tab is more like a File Manager. It will group all your apps into categories like Downloads, Images, Videos, Documents and Audio and then further categorise it by the source (camera, screenshots, WhatsApp etc.).
Also in the "Files" tab, there is a Transfer tool which will allow you to transfer files to other users without needing an Internet connection. This can be done by setting up a 'fast hotspot' with just a tap of a button, the Play Store description said.
According to Android community, Google may be aiming the app for the developing market since the app is very easy-to-use and doesn't require a lot of bandwidth.
Meanwhile, the application is also less than 10MB in size (5.41MB to be exact).