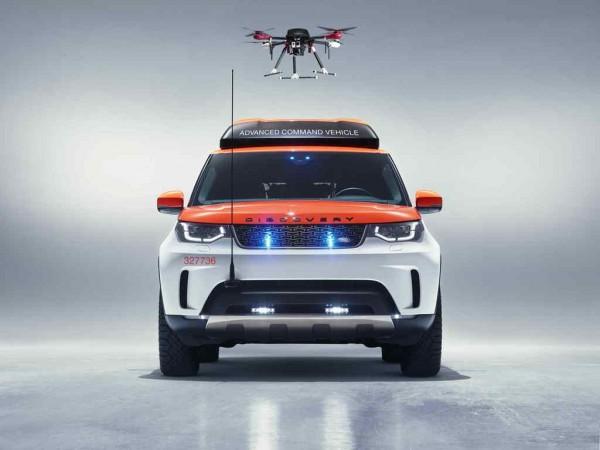 Jaguar Land Rover's Special Vehicle Operations (SVO) has designed a bespoke version of the new Discovery SUV for use by the Austrian Red Cross. Christened as Project Hero, the special Discovery is equipped with drone for surveillance during rescue operations.
Also read: Land Rover unveils Velar; 4th luxury SUV model in Range Rover family
With the drone on air, live footage can be transmitted to the Red Cross's emergency response teams, helping them reach quickly to the location where landslides, earthquakes, floods and avalanches are reported. In traditional map-based navigation services, sudden landscape changes will not reflect which adds to the danger and difficulties of rescue operations.
With the drone technology, the bird's-eye view will allow rescuers to investigate an emergency scene from a safe distance. The drone is roof-mounted and it can take off and land on Discovery, even when the vehicle is in motion.
The Project Hero is based on the 3.0-litre TD6 engine-powered version of the new Land Rover Discovery. In addition to the drone technology, the special Discovery also has its mission-spec heavy-duty sliding floor in the rear load space, a panel behind the rear seats providing additional equipment mounting points, LED lighting to aid night vision and power supply points with multiple plug arrangements.
The Project Hero is also equipped with multiple frequency radio equipment enabling contact to be made in a variety of situations.
"Land Rover and the team of engineers and designers at SVO are proud to support the incredible humanitarian work of the IFRC and its members. The new Discovery is an outstanding all-terrain SUV, and Project Hero is the optimum combination of enhanced capability and innovative technology. We hope to help the Red Cross save lives in emergency situations," said John Edwards, MD of Jaguar and Land Rover Special Operations.
Project Hero will be based at the Austrian Red Cross training centre in Erzberg, in the Eisenerz mining area, and in Vienna, for 12 months from June 2017.