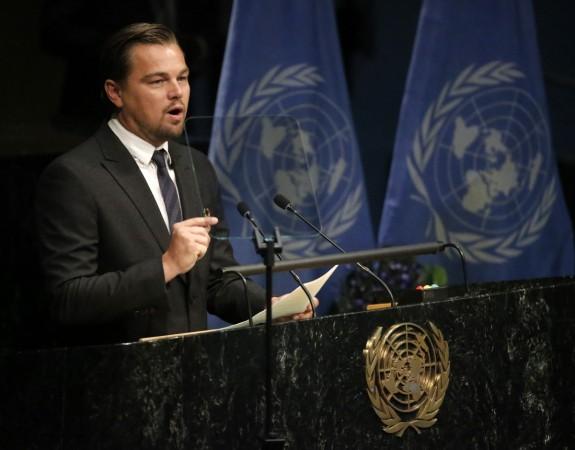 Academy Award-winning actor Leonardo DiCaprio was confronted with an inconvenient truth after speaking to Sunita Narain of India's Centre for Science and Environment in New Delhi during his recent documentary on climate change -- Before the Flood.
Thirty-six minutes into DiCaprio's recently released National Geographic documentary on man-made climate change, the two can be seen discussing the questions of equity that are hanging around the action sought to mitigate the devastating consequences of climate change.
"I am sorry to say this, I know you're an American and please don't take this amiss but your consumption is going to really put a hole in the planet ..." Narain tells DiCaprio that it would be impossible to ask the developing world to reduce emissions unless the United States creates an example by accepting a reduction in its lifestyle and consumption patterns in order to dramatically reduce emissions quickly.
She then presents DiCaprio a chart that compares electricity consumed on average by an American roughly equals to that consumed by 34 citizens of India.
DiCaprio responds: "Look, there's no way I don't agree with you. How can you argue that? You're absolutely correct. And I think, yes, it's a very difficult argument to present to Americans that we need to change our lifestyle, and I would also argue that it's probably not going to happen."
Following the exchange, Dicaprio interrogates his new found knowledge that is expressed as the narrator's inner monologue.
"The U.S. has been the biggest emitter of greenhouse gases in history. And there's no doubt that we've all benefited from fossil fuels. I know I have. My footprint is probably a lot bigger than most people's. And there are times when I question what is the right thing to do? What actions should we be taking? There are over a billion people out there without electricity and they want lights, they want heat, they want the lifestyle that we've had in the United States for the last 100 years ..."
Dicaprio's new-found epiphany, however, doesn't excuse his carbon emissions generated from flying around in a jet to China, India, the Arctic, Miami, Italy, Indonesia, while meeting the Pope, UN Secretary General Ban Ki-Moon, addressing the UN in New York and Paris and chatting with US President Barack Obama in Washington.
Neither does the afterword of the film, where producers say that they have reduced the 90-minute documentary's carbon footprint to zero by paying a voluntary carbon tax to support the rainforests.
All it does is expose the question surrounding equity that is impeding progress for collective action due to the hypocrisy of the western world. It bolsters Narain's argument that American lifestyle is a testament to excessive consumption. Here is the link to the new film: