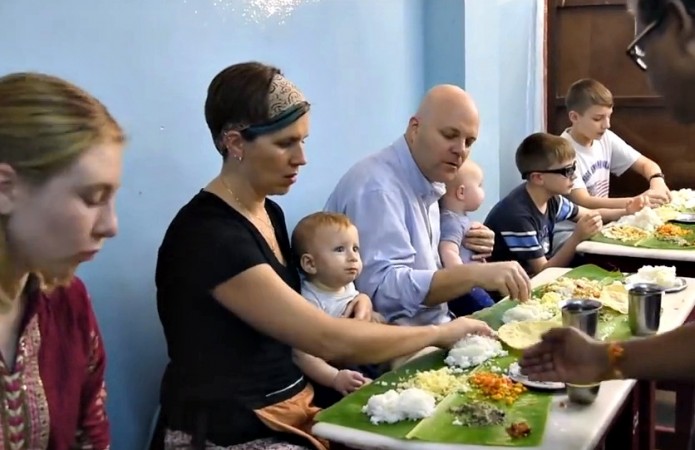 The US Consulate General in Chennai decided to celebrate the Madras Day in the best possible manner — by digging into some authentic South Indian cuisine.
The group of employees and their families, which also included children, went to the Kasivinayaga Mess and relished the food served on banana leaves with their hands.
Madras Day is a festival organised every year to commemorate the founding day of Madras city, which is now called Chennai. The day is celebrated on Aug. 22 every year as the then village called Madraspatnam or Chennapatnam was bought by the East India company from the viceroy of the Vijaynagar Empire, Damela Venkatapathy, on Aug. 22, 1639.
Madras Day celebrations have gave gained immense popularity and now even stretch to a week or even a month, prompting demands to call the celebrations Madras Week or even Madras Month.
"Eating a MEAL with your hands in banana leaf is always special, isn't it? And it's a celebration especially in South India! We are trying to connect your every day rhythm of Madras life highlighting Madras culture, food, and traditions. This is the first video in the Madras Week video series. SEVEN more to come. Keep watching and make your Madras connections! Happy Madras Week," read the caption of the video posted by the US Consulate General on YouTube.
You can watch the first video here:
The festival is a tribute to Chennai's history and its culture. The idea to celebrate the city is said to have been conceived by three people — journalist Sashi Nair, historian S Muthiah and publisher Vincent D' Souza. They decided in the year 2004 that the founding day of the city should be celebrated to honour the city and its rich heritage.