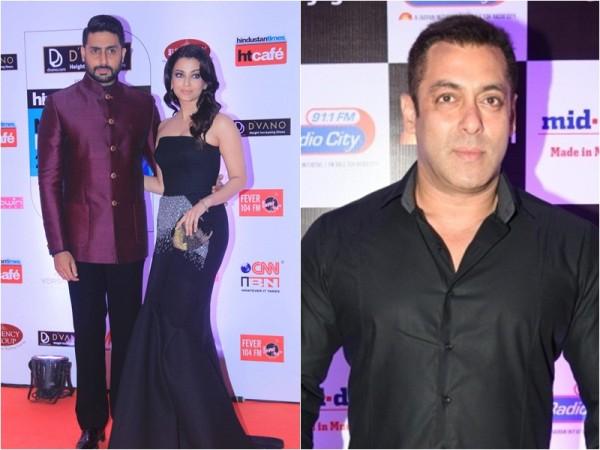 Although Abhishek Bachchan had played diverse and powerful roles, his career has not been up to the mark. Now wife Aishwarya Rai Bachchan reportedly hired a new manager for him, who had a connection with none other than Salman Khan.
It has been reported that Aishwarya suggested that Salman's ex-manager Reshma Shetty be hired to give a push to Abhishek's career, and the idea has also been implemented.
"Aishwarya felt Abhishek's career needed a small push to catapult him to the top bracket once again. Of late, he hasn't signed new films and is choosing to focus on the best possible projects," Deccan Chronicle quoted a source as saying.
The report also stated that Abhishek's next big project will be Sanjay Leela Bhansali's biopic on Sahir Ludhianvi.
"Following his revamped priorities, his first new project will be Sanjay Leela Bhansali's biopic on poet-lyricist, Sahir Ludhiamvi. Reshma has been brought in to oversee Abhishel's forthcoming career moves and to position him as a prominent entertainment brand," the source added.
Reshma had worked with Salman for around nine years, but they parted ways for various reasons. Some reports had claimed that the superstar had decided to get rid of her and her PR agency after she had started to create some issues between Salman and his family.
It was reported that Reshma had gone too far in her professional decisions, and once did not let Salman attend brother Sohail Khan's comedy show on television.
Nonetheless, she reportedly bagged the job of handling Akshay Kumar's career soon. And now, if reports are to be believed, Abhishek too is now in her list of clients.
Meanwhile, Salman is all set to appear on the big screen with his movie Tiger Zinda Hai. Also starring Katrina Kaif, the film is one of the biggest releases of 2017, and thus, the hype around the movie is massive.
It has witnessed impressive advance booking, and is expected to break many opening box office records. Tiger Zinda Hai will hit the screens on December 22. On the other side, Aishwarya will next be seen in Fanne Khan that also features Anil Kapoor and Rajkummar Rao.