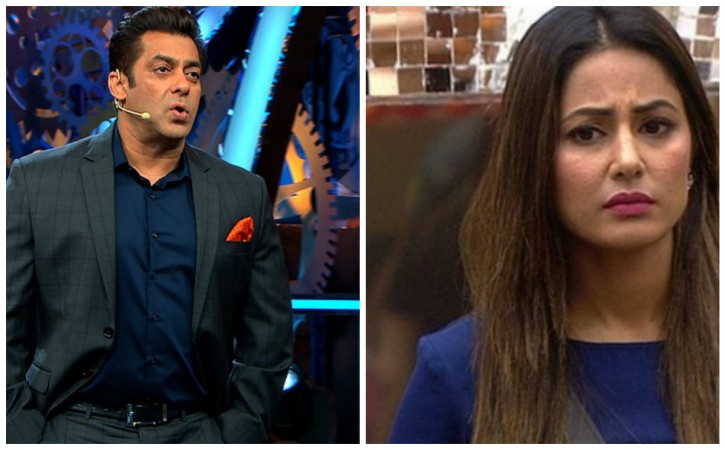 Some Bigg Boss 11 contestants recently discussed the number of followers certain celebrities have on social media. Hina Khan during the discussion tried to showcase her knowledge of some popular celebs including Salman Khan, and ended up appearing quite uninformed.
The discussion was between Hina, Puneesh Sharma, Vikas Gupta, Arshi Khan and Akash Dadlani. In an unaired video, Hina is seen claiming that Salman has just around 5-6 million followers on social media. In reality, Salman has over 28 million followers on Twitter, and over 13 million on Instagram.
If her knowledge of Salman's followers on social media was not funny enough, Akash made it sound funnier by saying: "That means Salman has a similar number of followers as Kamaal R Khan aka KRK!"
KRK, whose Twitter account is now suspended, actually had around 5 million followers when his handle was active.
In the same video, Hina is also seen claiming she has way more followers than former Bigg Boss contestant Gauahar Khan. In reality, Gauahar has 2.17 million followers on Twitter compared to Hina's 124,000-odd followers.
Gauahar is followed by 1.6 million on Instagram, where Hina has 1.7 million followers. However, Hina has far more followers than Gauahar on Facebook.
In the video, Hina even went on to say Sunny Leone has several millions of followers, while in reality she has just over 2 million on Twitter, and over 13 million on Instagram. She even suggested that Sunny's account has paid followers.
Check the video by clicking here.
Hina's "immense" knowledge of celebrity followership on social media appeared funny to many people. There are many making fun of Hina's observation on social media:
#BB11
In an unseen Video Hina khan was seen telling HMs That Gauahar khan has half followers
Then her.

Reality! Hina has 125k followers
Gauahar khan has 2.1M followers

??? Kitna jhut bolti hai yeh aurat??? Isne Swami om ka Record bhi todh diya ab.

— THE REALITY SHOWS ↩ (@TheRealityShows) November 29, 2017
Confirmed: Salman Khan and Sharukh Khan have less followers than Hina Khan #BB11

— ~Vinci~ ⚡️? (@vinci_khurana) November 29, 2017
Hina was earlier slammed for her comment on Salman, when she had said the host was biased towards Shilpa Shinde.
Many celebrities have been commenting on Hina and the other contestants' behaviour inside the house.