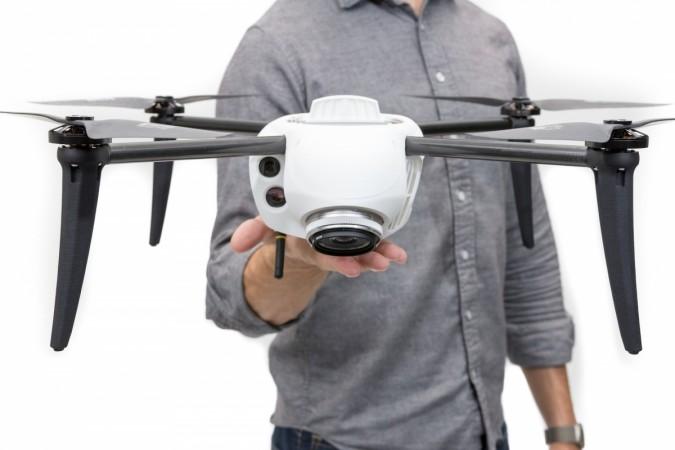 A California-based company could well be changing the way North Americans do business in the forestry, insurance and aggregate industries.
Kespry is using automated drones, or UAVs to save on man-power hours and costs while being more accurate, efficient and user-friendly.
Garreth Smith, Director of Business Development (North America) for Kespry, spoke to International Business Times: "Kespry's founders were focused on removing the friction from capturing data in the field and getting it into the business in an accessible and valuable format. That ambition still remains today."
Within the aggregate industry, the commercial UAVs can fly over large stockpiles of aggregates and measure the dimensions and volume covering 150 acres in less than half an hour, the data is then uploaded to a customized cloud where clients can access the information in a variety of 30 different formats within minutes.
The same technology is utilized when measuring lumber piles in the forestry industry.
Kespry's technology has enhanced the way customers are able to view, store and share the captured data.
Previously, manpower would be used to scale large stockpiles in order to take measurements, review their calculations, log the data and then make the data available to the customer. This process was time-consuming, costly, and the onsite time posed many safety hazards caused by sliding debris from the stockpiles.
Kespry's UAVs are fitted with hi-res cameras that can shoot multiple spots on a material stockpile as it flies over and the data is captured, assessed and wirelessly uploaded to a secure cloud. The data is captured, analyzed and stored and can be achieved twice as quickly.
Smith explained the workings of the UAVs: "In the past, a project manager or general contractor would need to order expensive aerials from a skilled pilot and wait weeks for delivery. With Kespry, that same person needs only to turn the system on, draw a box with his finger on an iPad tablet provided with the system, and press 'Go.' That's it. No joystick, no specialized flight skills, no hassles. A completed data product - ready for measurement and analysis - is delivered within hours in any number of desired formats: contours, point clouds, 3D meshes, orthomosaics, and more."
The UAVs are currently being used in the insurance industry to help adjustors and underwriters with roof inspections for residential and commercial property claims.
"Kespry is much more than just a drone; it is a complete aerial intelligence system, incorporating cloud hosting and processing, data analytics, data transfer, and system integrations, as well as full maintenance and servicing of the hardware, aviation insurance, operator training, and ongoing support," Smith told the International Business Times.
Kespry, an idea originally conceived in the laboratories of Stanford University, is today bringing major North American industries into the future with cutting edge technology that is safe, efficient and valuable.