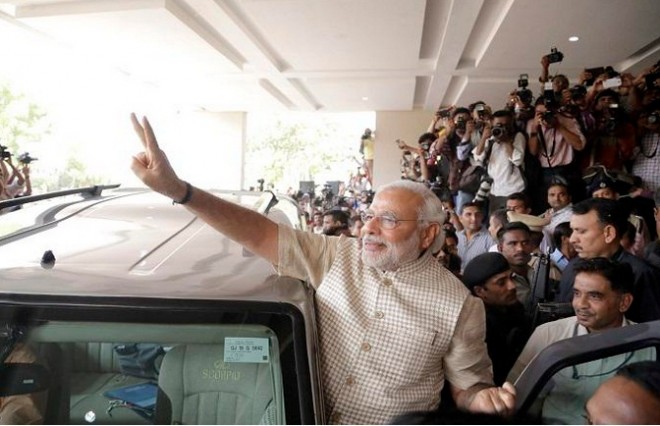 This day last year, the verdict of the biggest election in the history of India was out - Narendra Modi was declared the new Prime Minister of India.
Modi completed one year of coming to power on Saturday; he was voted to power on 16 May last year with a stellar mandate, toppling the ten-year rule of the UPA government.
Even as reams of analysis have been written about Modi's one year as a Prime Minister, many Twitterati took to celebrating the day as #NamoVictoryDay, while there were those who tweeted with the more critical hashtag #JumlaDiwas, complaining that there have been no Acche Din yet.
Modi himself tweeted photos of his post-victory celebrations from last year.
"16 May...this day last year.. great memories," Modi tweeted.
"The people's faith in Government has increased & the world's optimism about India & our growth is at an all-time high. I bow to my sisters & brothers of India & congratulate them (perhaps even more) on this memorable day," he tweeted.
16th May...this day last year…great memories. pic.twitter.com/SaVN09ecij

— Narendra Modi (@narendramodi) May 16, 2015
Here's what Twitterati said -
World looking up at India .. #NamoVictoryDay — Keep Smiling (@upma23) May 16, 2015
Today is the Freedom day from Congress Gunda Raaj and Scams. #NamoVictoryDay

— नरेन्द्र दामोदर मोदी (@i_Aakanksha) May 16, 2015
Let's Celebrate today as a grand Historical day in Indian History as today we were saw 'Congress Mukt Bharat' on that day. #NamoVictoryDay — Sumit Katiyar (@iSKatiyar) May 16, 2015
Modi Sarkar Rupee falling Prices rising ☝ Share Market crashing Farmers crying Soldiers dying And PM flying ✈✈✈✈✈ #JumlaDiwas

— Not that Mehta (@DaarubaazMehta) May 16, 2015
Those who voted for Modi 4 jobs really feel disappointed and said will never vote BJP #JumlaDiwas #ByeBJP — Sajid Yousuf (@sajid_yousuf_) May 16, 2015
But I do not understand Modi ji were elected a year ago or won a World Tour Package. #JumlaDiwas

— Jiya (@jiyalogy) May 16, 2015