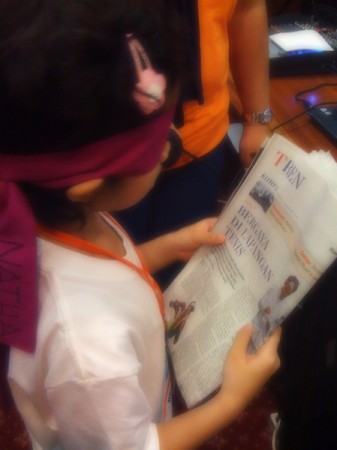 Like all kids his age, eight-year-old Samyak Jain loves to paint, make origami, cycle and do a host of other activities. But, there is something special about this boy that sets him apart from the rest -- he can read and do almost everything with his eyes completely closed.
And no, he wasn't born with this gift. Samyak, who is in third standard, attained this trait through vigorous training. He joined a programme that helped him activate his mid-brain, which enables him to do everything completely blindfolded.
Samyak was not interested in art initially but became involved in everything after this training, said his mother Rachna. "He wasn't interested in music, dance and painting at all, but now he does everything," Hindustan Times quoted his mother as saying.
How did it all start? It was his father Sharat Jain, whose curiosity in neurology took his son to the programme that trains children between 5 and 15 years to activate the mid-brain through unique sound waves.
"We came to know about the mid-brain activation technique while searching for neuro-science related stuff some years ago. This concept has been in vogue for more than two decades in countries like Malaysia, Singapore and Japan. By the time Samyak's summer vacations were over, I started looking for something similar in India and found a centre near our place," Sharat said.
Sharat, who did research before letting his son learn this unique technique, said mid-brain activation involves the central part of the brain – the one between the left and right brain – which goes into hibernation state by the time children are born.
"The mid-brains of children go into some kind of hibernation by the time they are born. It can be re-activated through unique sound waves, but only in the age bracket of 5 to 15 years," Sharat said as he explained what mid-brain activation is.
He cited an example from Hindu mythology Mahabharat, and said Sanjay, who narrated the battle to King Dhritarashtra, might also have an active mid-brain.
"In Mahabharata, we read about Sanjay who could narrate the incidents of the battle field while sitting somewhere else. It could be due to the activation of his mid-brain. We also hear about saints who can say things about objects without even looking at them. The unique music of temple bells could have activated their mid-brains, but of course we can't say anything with surety," Sharat said.
Neurologists too approve of Samyak's unique capabilities as being normal. Samyak has attained the special prowess only after the first level, he will improve further with passing levels, his teacher Yogendra Jain said.
"Samyak has completed the first level. In the second level, the child's reading speed will be accelerated so much so that he can get an idea of the contents by just flipping through the pages of a book," Yogendra said.
He added that this can help the children in today's world to cope with the extreme pressure and growing competition. "In a way, we are helping children to cope with the growing pressure of today's competitive world by making them more efficient on the fundamental level," Yogendra said.