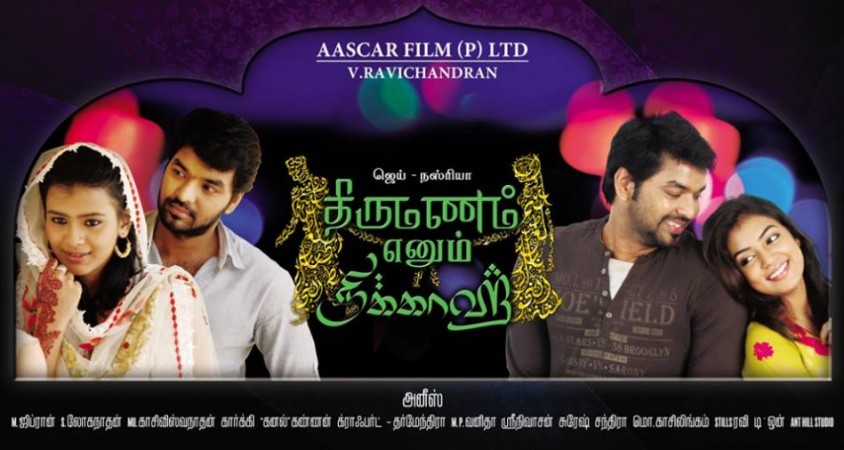 Jai-Nazriya Nazim's "Thirumanam Ennum Nikkah" has received mixed reviews from critics.
The film, directed by Anees, has Heebah Patel, Abhishek, Deekshitha, Dinesh and Mayilsamy in supporting roles. It is produced by Aascar Films and the music is composed by Ghibran. The much-delayed romantic entertainer had good pre-release buzz and carried some expectations thanks to the interesting trailer and soulful songs. However, it remains to be seen if the film's content will be able to impress the audience.
Plot: Raghavan (Jai) and Vishnu Priya (Nazriya) meet each other on a train while travelling from Chennai to Coimbatore. Circumstances force them to take false identities as Abubaker and Ayesha, respectively. It is love at first sight for Raghavan, while Vishnu Priya also falls in love with him later. They both go to an extent of learning more about the Muslim religion and its culture. What happens when they find out their true identities forms the crux of the story.
Critics have given mixed reviews for the film citing that the film has interesting plot, but fails in its execution. Jai and Nazriya's performances have won accolades from the critics, while they have termed Ghibran's music as the major plus point of the film.
Here is the review roundup of "Thirumanam Enum Nikkah"
"Director Anees has taken an interesting plot for his debut film. If only had he not fallen for commercial compromises – a couple of unwanted songs, a superfluous secondary love track, and a forced fight in the end – TEN would have been more memorable," said Behindwoods Review Board.
"Jai is let down by a waferthin plot while Nazriya looks charming and once again proved her talent.The only silver lining in the film is the outstanding music of Ghibran, with 'Chillendra Chillendra..' and 'Kannukul Pothi Vaithen..' being the pick of the lot. Anees's intentions are noble but his execution and lack of a strong story sticks out like a sore thumb," according to Sify.
"If there is something that stands out in the movie, it is Ghibran's superlative music. Melody comes naturally to him and the songs in this film stand as testimony to this fact. At times, songs provide relief to the audience in an otherwise lifeless screenplay. The background score also beautifully blends with the visuals," said Sai Shyam G of iflickz.
"While choreography is worth appreciation, stunt choreography is not as satisfactory as the dance and music are. The second half of the movie is more involving than the first and details out the interesting Islam procedures in detail," according to Indiaglitz.
Verdict: Fails to Live up to Expectations