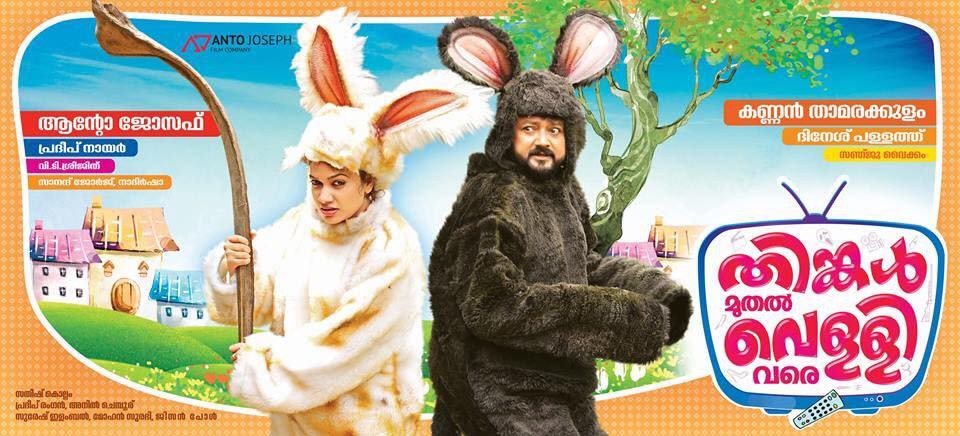 Much talked about film "Thinka Muthal Velli Vare" hit screens on 12 June. The movie, which has Jayaram and Rimi Tomi in the lead, has opened to below average reviews from critics.
"Thinkal Muthal Velli Vare" revolves around the life of popular television serial script writer Jayadevan Chungathara (Jayaram). He writes script for nearly three serials at a time and his life takes a turn when he marries Pushpavalli (Rimi Tomi), who is an ardent fan of Jayadevan's serials. What happens to Jayadevan and his life after marriage forms the basic storyline.
Here are the reviews of "Thinkal Muthal Velli Vare" by various critics:
"The first half of the movie has these exaggerated jokes that gets the support of amateurish scripting and direction. The second half tries to become more intense and all you can do is to look at the screen hoping that the "Directed by" title will come soon. The whole ghost plot and its back-story would make you realize how outdated the scriptwriter is."
"The making tries to be innovative but Kannan Thamarakkulam hasn't done anything that can be called as innovative. At many points you would feel that why are we even discussing these subplots. The most unbearable thing is that towards the climax we get to see the characters praising the hero for his creations that were shown as trash quality writings in the beginning. With a Palani climax twist, it reaches that epitome of annoyance."
"There is nothing much to describe about the hollow script and weak direction. The film tries to depict the Television industry in a much unconvincing way. Director Kannan Thamarakkulam fails to bring out the best from the actors and make the movie engaging with standard comical elements. Sadly, the movie fits into the category of a typical Malayalam soap opera and hardly caters the audience who expect a cinema."