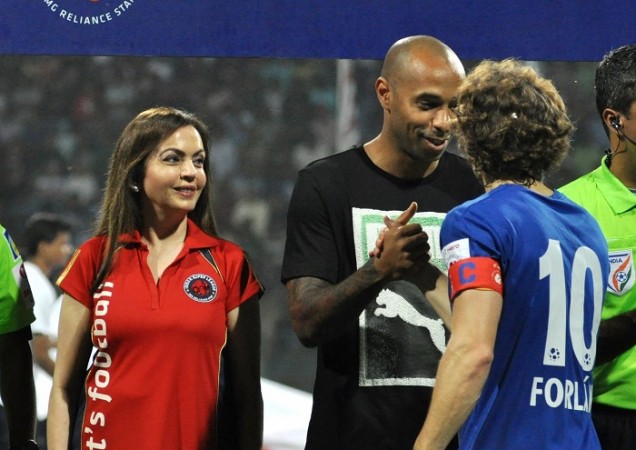 When you walk into an ISL ground, you usually get to see plenty of fans with their favourite Indian Super League team's jersey on. You walk into the Jawaharlal Nehru Stadium in Kochi on a matchday, for instance, and all you can see is a sea of yellow.
On Tuesday, in Kolkata, though, it was a little different.
Mixed in with the Atletico de Kolkata shirts and a few Mumbai City FC jerseys were plenty of Arsenal kits, with the Gooners of India coming out in their numbers to see one of the club's greatest ever players.
Thierry Henry landed in India on Tuesday for a Puma sponsored event, and the Premier League legend was one of the esteemed guests for the Atletico de Kolkata vs Mumbai City FC match at the Rabindra Sarobar Stadium.
Speaking at an event, which he attended with India international striker Robin Singh, Henry said he has heard great things about the ISL and the increasing standard of Indian football.
"The reception has been great," Henry, who arrived in India on Tuesday morning, said. "I went to a shopping mall today and I saw the passion that India has for football.
"The league is very condensed they have a lot of game back to back games but they are delivering some good football. A lot of the guys who have played here have told me the league is on a high level and I am witnessing that myself.
"Freddie (Ljungberg) and (Nicolas) Anelka have told me about the difficult level of the ISL."
The two former Arsenal players – Ljungberg and Anelka played in the ISL in the past seasons, both for Mumbai City FC.
Speaking about his time in football, Henry expectedly had kind words for the man who turned him into one of the best strikers of his era. "I was fortunate to have played under Arsene Wenger," he said.
The 39-year-old also elaborated on what drove him to be the best player he could be, saying satisfaction was something he never could come to terms with as far his performances on the field were concerned.
"I was always happy as a player but never satisfied," Henry said. "I always wanted to achieve more."
After an outstanding playing career Henry is now trying his hand at coaching. Having coached the youngsters at Arsenal, the Premier League club's record goalscorer is now an assistant to Belgium manager Roberto Martinez.
Maybe one day, he will be on the dugout of one of the ISL teams. Now, that would be great for Indian football, wouldn't it.