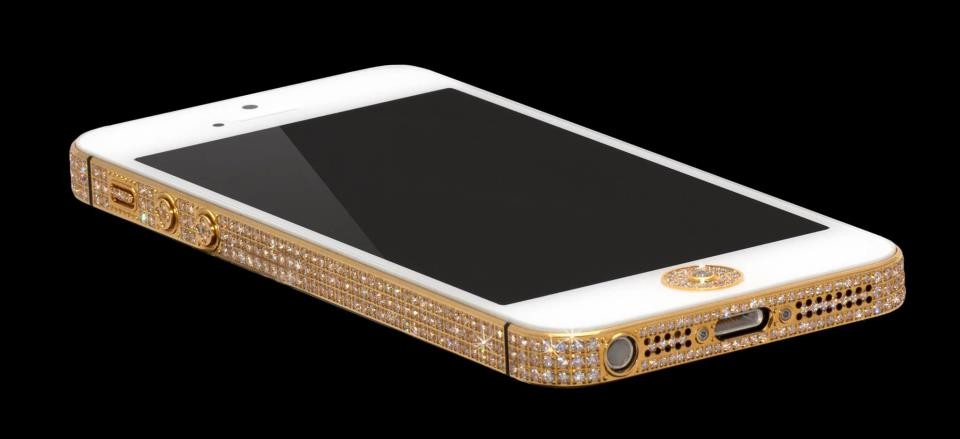 Apple iPhones, regardless of their monstrous prices and reputation for being fragile have still managed to maintain a high level of popularity; at least among those who can afford them. "If you've got it, then flaunt it!" So if the regular iPhones aren't luxurious enough for you, splurge on these customised million dollar phones designed to excite the crème de la crème.
The only two handsets developed by London-based jewellery firm Alchemist, which specializes in adding designer gold and jewelled cases for laptops, tablets and smartphones, is valued at $1 million each, ABC news reported.
The company in its blog states that it had set out to create an item that was so luxurious that it would "redefine the meaning of grandeur" and spent seven months making the bespoke device. It has culminated in the production of the most sought after piece of customized technology available in the world today. The result of meticulous, painstaking and methodical creative process, the final design is "a challenge of epic aesthetic and technical proportions."
Dubbed as the Million Dollar iPhone, the handset has a 24-carat gold bezel and is covered with 700 individual diamonds, totalling over seven carats. The rear panel and the navigation button are both made from 24-carat gold and the Apple logo is created using 53 diamonds with a two carat diamond cut into the centre of the navigation button.
Shockingly though, the Million Dollar iPhone is not the most expensive phone in the world; that would be the $15million iPhone that was commissioned by a Chinese businessman identified as Joe. There is only so much you can do to make a phone expensive, and Liverpool craftsman Stuart Hughes has hit the ballpark with this model. The home button of iPhone 5 Black Diamond Edition is encrusted with a rare 26 carat black diamond worth $14.5 million and includes a full solid gold dressing and 600 flawless white diamonds, of which 53 make up the Apple logo on the back.
This masterpiece boasts a massive circa of 135 grams of 24 carat gold and a sapphire glass set in the screen- it is highly resistant to scratches. However, all this gold and the precious stones have taken a toll on the phone's weight. Regardless of its weight and whether the most expensive tag will be stripped off in the near future, this phone is a pinnacle of luxury.