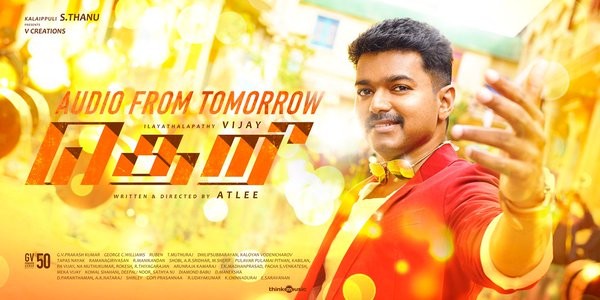 Vijay, Samantha and Amy Jackson-starrer "Theri" has garnered mixed response from critics. While Ilayathalapathy's strong screen presence has won appreciation from all, the familiar storyline has been criticised by them.
Audience Review | First Day Box Office Collection of 'Theri'
It is a revenge drama with lots of emotion and action. The film tells the story of a cop who leaves his profession following the death of his wife, but returns to the profession to finish off an evil element in the end.
Vijay has come out with flying colours and Samantha and baby Nainika impressed viewers with their performances. Amy Jackson looks cool in her new avatar and Mahendran leaves a good impression with his villainous act.
GV Prakash Kumar gets full marks for his four tracks and brilliant background score. Cinematography by George C Williams is top notch.
Critics have said it is just an average movie, and has failed to live up to their expectations. Read the reviews of "Theri" by leading publications:
The Times of India Review: Unlike Chimbu Deven, who got carried away with making his star a darling of the kids in Puli and ignored the actor's core fan base (the youth), Atlee comes up with moments that satisfy all segments of the audience.
DNA Review: Vijay essays his roles as Joseph and Vijaykumar with ease. He has played a cop before and this time, too he excels as a cop. In fact, his cop moments in the film have been well executed.
IBNLive Review: You put 'Baashha' into a washing machine and get a garment that's a little different-looking, that's 'Theri for you. Movies with a similar format have been made before 'Baashha', as well, but the 1995 Super Star starrer is the benchmark for such films.
The Hindu Review: Instantly, we know the story. Any film in which a mass hero is a mouse in the early reels will feature a flashback in which we see him as a tiger, and then a second flashback in which we see why this tiger transformed into a mouse.
Hindustan Times Review: Beyond this, there is little novelty in a plot that only appears rehashed (probably for the nth time) with some annoying and ethically questionable police methodology.