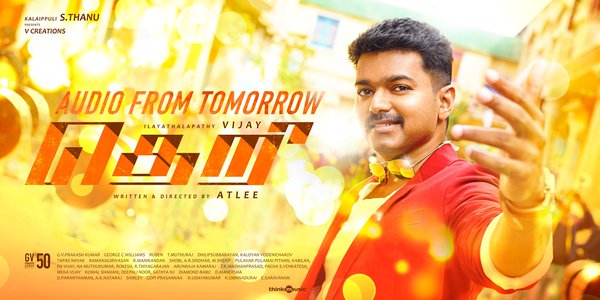 There is a huge demand for the theatrical rights of "Theri." Many distributors have come forward to buy the rights of different regions and quoting fancy rates.
Producer Kalaipuli S Dhanu is having negotiations with some of them and the rights of Karnataka, Tamil Nadu and Kerala regions are expected to be sold by this weekend. "#Theri #KalaipuliThanu says he will finalise all areas in TN, Kerala & Karnataka by weekend- Too many buyers," journalist Sreedhar Pillai confirmed on Twitter.
The distribution rights of the U.S. and Andhra Pradesh have been acquired by Cine Galaxy and Dil Raju, respectively.
The industry is now curiously looking forward to see whether the pre-release business of "Theri" will be higher than Vijay's previous film "Puli," which had made over Rs 100 crore before its theatrical release.
As per the Andhra Box Office, the makers of "Puli" had earned Rs 39 crore by selling the theatrical rights for Tamil Nadu, Rs 5.5 crore for Karnataka, Rs 16 crore for Kerala, Andhra Pradesh, Telangana and from rest of India. The overseas rights had fetched Rs 14 crore for the producers.
Sun Network had acquired the satellite rights of the three versions (Tamil, Telugu and Malayalam) of "Puli" for Rs 22 crore and the rights of the Hindi version was sold for approximately Rs 2.5 crore to take the film's pre-release business to Rs 101 crore.
Coming back to "Theri," industry insiders hope that the pre-release business of "Theri" would come closer to "Puli" if not fails to beat the record of Vijay's previous movie.
However, Ilayathalapathy's new flick is not releasing in Hindi and this is a big disadvantage for the movie. The rights of key centres should fetch a higher price in order to surpass the pre-release collection of "Puli," opine industry insiders.
"Theri" is releasing worldwide April 14 for Tamil New Year. The movie, which is directed by Atlee Kumar, has Samantha and Amy Jackson in the female leads.
[1 lakh = 100,000 | 1 crore = 10 million | 100 crore = 1 billion]