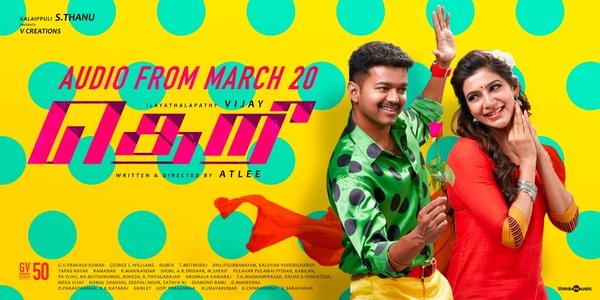 After getting a fantastic response in the first two weekends from the audience, Tamil movie "Theri" has finally slowed down at the international box office. By the end of its third weekend, the total collection of the film from the international centres stands at $6.63 million (Rs. 44.37 crore).
In the first weekend, "Theri" had minted a little over Rs. 30 crore. It added about Rs. 11 crore in the next seven days to take its total to Rs. 41.85 crore. But since then, the collection has seen a huge drop and the movie could only add a little over Rs. 3 crore in the next week to take its total until third weekend to Rs. 44.37 crore, reports TamilBoxOffice1.
"Theri" has raked in $728,317 (Rs. 4.84 crore) so far in the United States, while in Canada the movie collected $399,079 (Rs. 2.66 crore). The total collection of the film in North America is $1,127,396 (Rs. 7.5 crore).
The next biggest overseas centre for "Theri" was Malaysia, where it collected MYR 5,644,489 (Rs. 9.62 crore). Despite the slow start in this region, the film has managed to perform well.
The Vijay-starrer has earned £392,568 (Rs. 3.81 crore) till date in the United Kingdom, while in Australia it has made a collection of A$393,265 (Rs. 1.99 crore). "Theri" has collected NZ$24,248 (Rs. 11.25 lakh) at the New Zealand box office, and $32,022 (Rs. 21.32 lakh) in Norway.
"Theri" has done good business in France too, where it made €292,000 (Rs. 2.23 crore) by the end of its third weekend. From the rest of the world, the film has collected $2.84 million (Rs. 18.89 crore).
| | | | |
| --- | --- | --- | --- |
| Overseas Centres | First Weekend | End of Second Weekend | End of Third Weekend |
| U.S. | $643,353 (Rs. 4.28 crore) | $715,378 (Rs 4.76 crore) | $728,317 (Rs. 4.84 crore) |
| Canada | $279,435 (Rs. 1.45 crore) | $395,155 (Rs. 2.08 crore) | $399,079 (Rs. 2.66 crore) |
| Malaysia | MYR 3,023,041 (Rs. 5.15 crore) | MYR 5,021,360 (Rs. 8.56 crore) | MYR 5,644,489 (Rs. 9.62 crore) |
| Australia | A$305,807 (Rs. 1.56 crore) | A$ 377,617 (Rs 1.94 crore) | A$393,265 (Rs. 1.99 crore) |
| U.K. | £281,485 (Rs. 2.67 crore) | £376,489 (Rs 3.62 crore) | £392,568 (Rs. 3.81 crore) |
| New Zealand | NZ$18,807 (Rs. 8.68 lakh) | NZ$23,950 (Rs 10.95 lakh) | NZ$24,248 (Rs. 11.25 lakh) |
| France | €202,005 (Rs. 1.52 crore) | €278,803 (Rs 2.08 crore) | €292,000 (Rs. 2.23 crore) |
| Norway | $24,857 (Rs. 16.52 lakh) | $32,022 (Rs 21.32 lakh) | $32,022 (Rs. 21.32 lakh) |
| Rest of the world | $2.10 million (Rs. 13.97 crore) | $2.70 million (Rs. 17.96 crore) | $2.84 million (Rs. 18.89 crore) |
| Total Overseas Collection | $4.63 million (Rs. 30.85 crore) | $6.25 million (Rs. 41.85 crore) | $6.63 million (Rs. 44.37 crore) |
[1 lakh = 100,000 | 1 crore = 10 million | 100 crore = 1 billion]