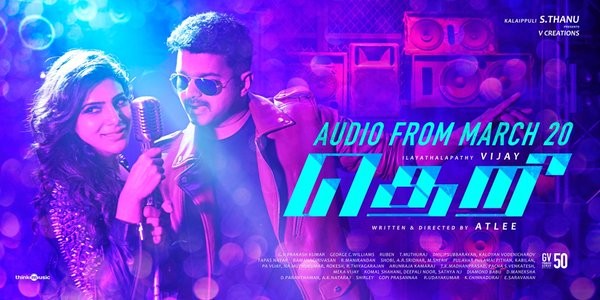 Vijay's "Theri" has made decent collection at the box office on its second day. After getting an earth-shattering opening, the Tamil flick managed to pull the crowd to theatres despite Friday being a working day.
"Theri" had minted Rs. 13.1 crore on its first day in Tamil Nadu. The movie witnessed almost 50 percent drop as the movie earned Rs. 7.12 crore on its second day, according to Andhra Box Office. The two-day collection in the state stands at Rs. 20.22 crore.
The Vijay-starrer has managed to collect Rs. 7.75 crore from other parts of South India in two days to take its total to Rs. 27.97 crore. It raked in Rs. 3.75 crore from Kerala, Rs. 2.70 crore from Karnataka, Rs. 85 lakh from Tamil and Telugu versions in Andhra Pradesh and Rs. 45 lakh from two versions in Telangana.
It must be noted that the Telugu version of the film, titled "Police"aka "Policeodu," was released a day later in Andhra Pradesh and Telangana.
The movie was released for Tamil New Year, a holiday in Tamil Nadu. Hence, the movie got a flying start at the box office in the state. The drop in the collection was expected on the second day as it was a working day.
Adding to that, "Theri"was not released in the majority of the theatres in the Chengalpet region after the deadlock between the producers and exhibitors failed to find an amicable solution over the profit-sharing issue.
Meanwhile, "Theri" has done exceedingly well at the U.S. Box office. "#Theri Saturday hourly gross $135,589 and adds up to $715,355 and became @actorvijay highest in NA and past #kaththi," Midwest Movies tweeted.
Below, find the area-wise break-up of the collection of the Tamil film:
| | |
| --- | --- |
| Area | Collection |
| Chennai | Rs. 1.99 crore |
| North and South Arcot | Rs. 2.40 crore |
| Coimbatore | Rs. 6.05 crore |
| Madurai | Rs. 2.52 crore |
| Trichy & Thanjavur | Rs. 2.60 crore |
| Salem | Rs. 2.48 crore |
| Tirunelveli- Kanyakumari | Rs. 1.48 crore |
| Chengalpet (Limited Screens) | Rs. 70 lakh |
| Tamil Nadu Total Collection | Rs. 20.22 crore |
| Outside TN | |
| Kerala | Rs. 3.75 crore |
| Karnataka | Rs. 2.70 crore |
| Andhra Pradesh | Rs. 85 lakh |
| Telangana | Rs. 45 lakh |
| Total South India Collection | Rs. 27.97 crore |
[1 lakh = 100,000 | 1 crore = 10 million | 100 crore = 1 billion]