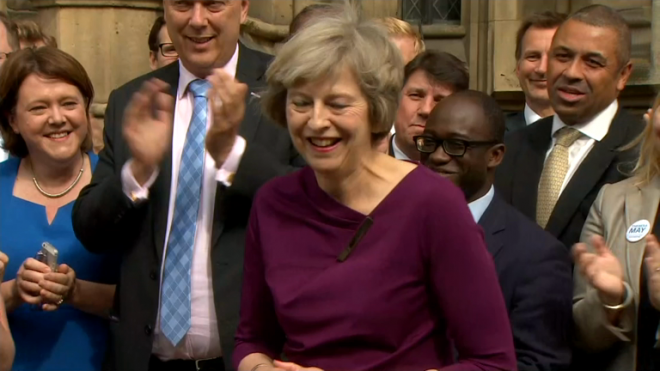 David Cameron announced on Monday that he has decided to resign on Wednesday as the U.K. prime minister, as he and his Labour Party's ideology against Brexit were given a thumbs-down by the people in the referendum. Meanwhile, the Conservative Party selected Theresa May as its chief, after Nigel Farage stepped down, and it is May who will take over as prime minister from Cameron.
A BBC report quoted May as saying that she was "honoured and humbled" to have been elected to lead the Conservative Party. She said she would work to make the exit of the U.K. from the European Union a success and work towards a better Britain. If May becomes the prime minister, she will be only the second woman in the history of the country to hold the post.
May was in contention for the post of the Conservative Party leader along with Andrea Leadsom. It did not matter which one of them won, because in either case, the country would have got a woman prime minister. However, Leadsom pulled out of the contest, clearing the decks for May to don the mantle of the Conservative Party chief.
Earlier in the day, announcing that he had decided to step down as prime minister on Wednesday, Cameron said: "Tomorrow [Tuesday] I will chair my last cabinet meeting. On Wednesday I will attend the House of Commons for Prime Minister's Questions. After that I expect to go the [Buckingham] Palace and offer my resignation."
After Cameron tenders his resignation to the Queen on Wednesday, May is expected to go to the Palace and stake claim to the prime minister's post. Basically, she will be invited to form the government, and is expected to be prime minister by Wednesday evening.