The first trailer for the Stephen Hawking biopic, "The Theory of Everything", was released on 6 August on the official YouTube channel of Universal Pictures UK. Eddie Redmanyne (Les Misérables fame) as Hawking and Felicity Jones (The Amazing Spider-Man 2) as his college love and first wife Jane Wilde is heart-wrenching and their chemistry is naturally palpable.
Based on the two and half minute trailer, "The Theory of Everything" focuses heavily on Hawking's time at Cambridge University, where he met fellow student Jane as he comes to terms with being diagnosed with motor neurone disease. It is a tender celebration of the legendary astrophysicist's academic and personal triumphs in the face of acute adversity.
Trailer shows Hawking and Jane's first encounter at Cambridge University in 1964 and his early academic successes, culminating in a doctorate after he advanced theories about space-time singularities at the centre of black holes.
Anthony McCarten's screenplay focuses on Wilde's 2007 memoir, "Traveling to Infinity: My Life With Stephen", which discusses their marriage of 30 years. With Wilde's unrelenting determination to stay together as long as they can and her consistent fight that kept pushing him, Hawking embarked on the most ambitious scientific work of his life - studying the very thing he was told he didn't have time.
A blurb from the trailer reads, "Little was expected from Stephen Hawking, a bright but shiftless student of cosmology, given just two years to live following the diagnosis of a fatal illness at 21 years of age. He became galvanized, however, by the love of fellow Cambridge student, Jane Wilde, and he went on to be called the successor to Einstein, as well as a husband and father to their three children."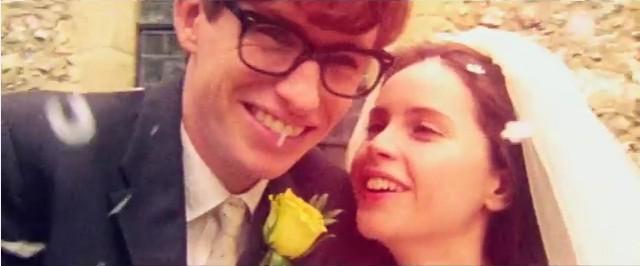 Together Hawking and Wilde defied impossible odds in breaking new ground in science and medicine. Their intense relationship that resulted in marriage was tested with the collapse of Stephen's body, unimaginable academic thrive and the exposure of fault lines that were hidden thus far.
However, from the looks of the trailer, "The Theory of Everything" does not touch on these personal travails, which includes an acrimonious divorce from Jane in 1995 after he left her for his former nurse Elaine Mason, the marriage to whom also ended in divorce.
One of the lighter moments from this tear-jerker of a trailer is when Hawking hears his now-famous synthesised voice for the first time, and Jane expresses concern over the program featuring an American accent.
In 2004, Benedict Cumberbatch had starred in and as Hawking, a television film produced by BBC and screened on BBC 2. In a 2013 biographical documentary, featuring Nathan Chapple as the scientist, Hawking himself can be seen discussing his childhood, struggle with the illness and his worldwide fame.
"The Theory of Everything" also stars Emily Watson, David Thewlis and Charlie Cox, recently seen in "Boardwalk Empire".
The film, directed by James Marsh, who won an Oscar for directing the acclaimed documentary "Man on Wire", will premiere in the Special Presentations section at the Toronto International Film Festival, which opens on 31 August.
Watch the trailer for The Theory of Everything here: