The theme music of Ram Gopal Varma's upcoming movie "Killing Veerappan" was released on Sunday.
The clip has a 3.31-minute theme with a visual presentation. The background impresses instantly and raises expectations from the movie.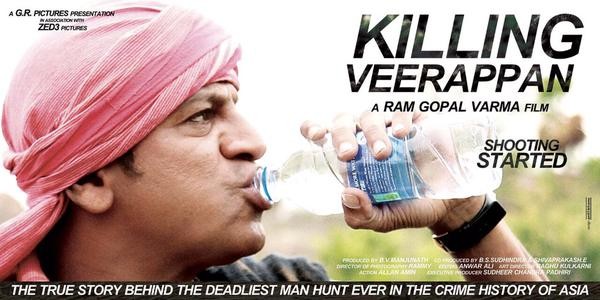 "Killing Veerappan" revolves around the death of notorious forest brigand Veerappan. The plan to kill him is the outline of the story. The film will be made simultaneously in Kannada and Telugu.
Shivaraj Kumar plays the central character and young talent Sandeep will be seen in the role of Veerappan. Parul Yadav will be reprising the role of Veerappan's wife Muthu Lakshmi.
"Killing Veerappan" marks the debut of Ram Gopal Varma in Kannada film industry. The director's last couple of films have failed at the box office and it will be interesting to see whether his latest movie will give him the much-needed commercial success.
It may be recalled that a few years ago director AMR Ramesh had made a biopic on Veerappan. The controversial movie starred Arjun Sarja, Kishore and Suresh Oberoi. It was made in Kannada and Tamil.
"Killing Veerappan" is produced by BV Manjunath and co-produced by BS Sudhindra and Shivaprakash. It has Rammy's cinematography, Anwar Ali's editing, Raghu Kulkarni's art direction and Allan Amin's action, while the other details about the project have been under wraps.