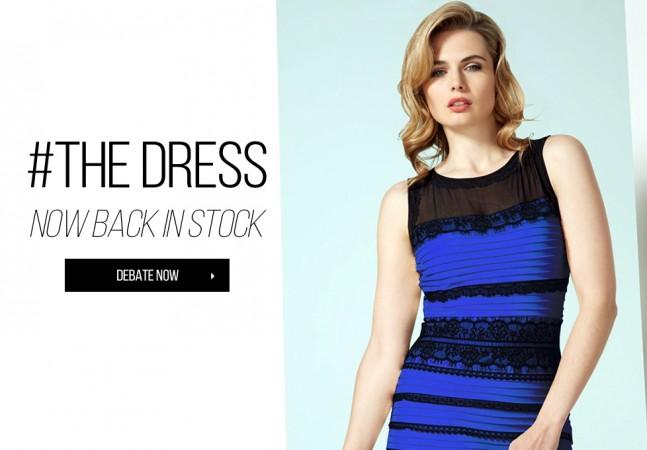 A British fashion firm was basking in the glory of unsolicited publicity, after one of its dresses become a subject of perhaps the most-popular social media debate ever, under the viral hashtag #TheDress.
Social media, particularly Twitter, was literally overrun and thrown into a never-before-seen tizzy, with a frantic and clamorous discussion dominating the top worldwide trends over the colour of the dress.
While Twitterari was busy with all sorts of comments, the manufacturer of the hotly-debated dress was rejoicing over the fame and fortune they were receiving – thanks to the ceaseless debate over the optical illusion.
The retailer, Roman Originals, said the sales of the outfit that sparked the debate soared to a whopping 347 percent on Friday, reports CNN Money.

Confusion over the exact colour of a dress appearing in a picture on Tumblr triggered a frenzy on social media, with many of well-known faces in the world such as Tailor Swift and Kim Kardashian participating in the debate.
Ever after almost 48 hours of the debate, there is no consensus on the exact colour of the dress. While many say it has a tinge of white and gold, many swear that the dress is blue and black.
The hastags #TheDress #WhiteAndGold, and #BlueAndBlack have been trending on Twitter over this debate.
"I can officially confirm the color is royal blue with black trimming," Michelle Bastock, Roman Original's fashion director told CNN in an interview.
Bastock wore the dress during her interview and declared that she was planning to start offering a white and gold version of the same dress, adding that the new version will be available after six months.
The website of the company quickly featured the hotly-debated dress on its home page through Thursday and Friday.
"We were really surprised and really happy...It's just amazing," Bastock said talking about the publicity her company received. "We're really busy. All the team on the website are going crazy."
She added that the dress sells for £50 ($77) and that there is plenty available.