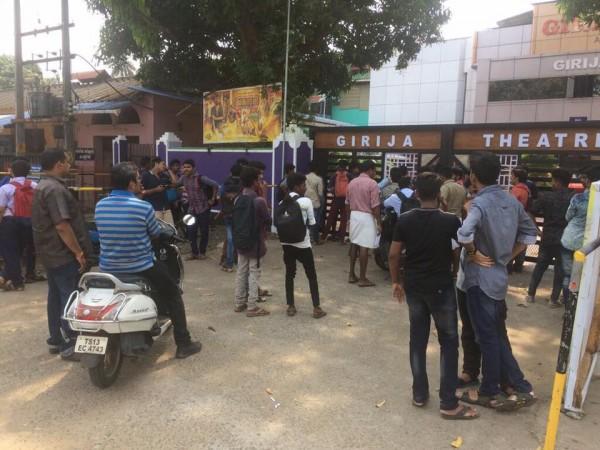 The hit movie Angamaly Diaries is in a pickle with a few theatre owners trying to enforce a hold over, probably to play down the collection of the movie to make way for new releases. The incident was brought to light by Oru Mexican Aparatha actor Roopesh Peethambaran via his Facebook page.
The director-actor shared a photo that shows people waiting outside Girija theatre in Thrissur where Angamaly Diaries is being screened. He said the Malayalam industry will come together to protest against such acts.
"Girija theater, open the gates for Angamali Diaries!! If you are planning for a forced hold over situation then 'we' the Malayalam film industry will react!!!! Ni yonnum orilkyalum padam kalikillaaa!! [you will never play any movies in future]. Share this information to the maximum [sic]," Roopesh posted on his Facebook page.
Meanwhile, from the Facebook posts of Vijay Babu, who has bankrolled Angamaly Diaries, it is understood that the owners of the theatre are trying to restrict the audience entry. "Not fair. Trying to make angamaly hold over in Girija theatre Trichur by the owners ...Gate not opened till 2.45 for 3 o clock show !!Same with attingal Ganga !!Girija theatre .... Closed gate at 6.15 for 1st show. As per the rules the gates has to be open for 15 min after the show starts at 6.15 !!!We will wait for ur act and will react strongly ! [sic]," Vijay posted on his social media page.
Even Lijo Jose Pellissery, the director of Angamaly Diaries, has requested the owners of Girija theatre to open the gates for the audience.
Trouble for Angamaly Diaries
A few days ago, director Lijo had slammed Kerala police for misbehaving with the Angamaly Diaries' team at Muvattupuzha. Later, the Perumbavoor RTO had fined the vehicle owner for covering the windshields with film's posters.
Recently, Angamaly Diaries became the victim of cyber piracy with a few people uploading and live streaming the entire movie on social media. Vijay later revealed the identity of the person who had streamed the movie live on Facebook.