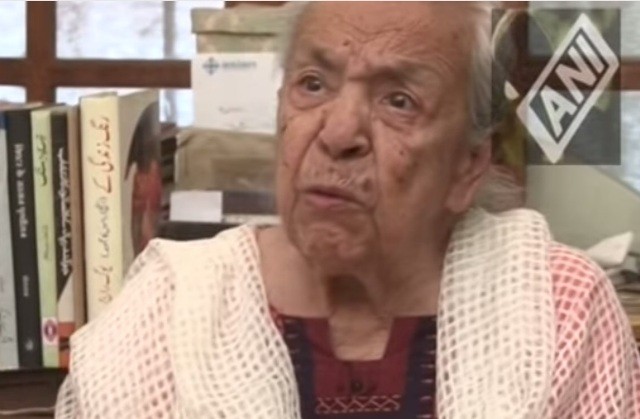 Zohra Sehgal, the woman who did not wait to commit mistakes to learn from it, took lessons from the life of her sister whose marriage didn't last long, and went ahead to pursue her passion of acting, instead of marrying young, passed away on Thursday. She was 102.
The doyenne of theatres and cinema succumbed to a cardiac arrest at Max Hospital in New Delhi on Thursday at 4:30 pm.
Zohra born in a Muslim family in Uttar Pradesh, studied at Queens Mary College, Lahore — a part of India prior to the partition — before embarking on her journey to live her dream of acting.
She travelled to England with her uncle, starting her trip from India, via Balochistan, Iran, Arab to Egypt by car, from where she sailed to Continental Europe.
The change of her destination was decided upon by her aunt in Egypt, when Sehgal, who inspired by American artiste Isadora Duncan, told them she wanted to learn dancing rather than acting. Her aunt suggested her to join a ballet institution in Germany.
Consequently, instead of going to London, she landed up in Germany, where she met dancer and choreographer Uday Shankar, who offered her a chance to join the group after completing her three-year ballet lesson
In 1935, upon Shankar's proposal, she joined his troupe heading to Japan on a tour, and performed as the lead dancer across Japan, Egypt, Europe and the US. After the tour ended she returned to India in 1940, where she met artiste Kameshwar Sehgal, while working as a teacher at Shankar's academy.
Two years later in August 1942, she broke all taboos and married Kameshwar who was a non-Muslim.
After 10 years of complete devotion to dancing under Shankar, she moved on to acting — her first passion, and joined Prithvi Theatres — the theatre group started by Prithviraj Kapoor, in 1945.
Her seven-decade long career in acting began under the guidance of Kapoor, whom she affectionately called "Papa" (father). Apart from working with him, she was also a part of the leftist theatre group, Indian People's Theatre Association (IPTA).
In 1959 Zohra's husband died after which she left the theatre groups and moved to Delhi, where she stayed for another three years working as Natya Academy's director.
Later in 1962, she went to London on a holiday, but stayed on for 25 years. The first 13 years were difficult, but she never let her children — Pawan and Kiran, suffer because of financial crisis.
The struggle ended around 1976-77, when she started anchoring in 25 BBC TV series of "Padosi" (Neighbours) and became a prominent artiste in London. She also acted in many British films and popular television series such as "My Beautiful Launderette", "Tandoori Nights" and "The Jewel in the Crown."
In an interview with ANI, she said she got recognition in Indian cinema after working with Govinda in the film, "Chalo Ishq Ladaaye." She later appeared in films including "Dil Se", "Bend it Like Beckham" and "Hum Dil De Chuke Sanam." Her last film was Sanjay Leela Bhansali's "Saawariya" in 2007.
The veteran actress has been conferred with Sangeet Natak Akademi Award, Sangeet Natak Akademi Fellowship, Kalidas Samman, Padma Shri, Padma Bhushan and Padma Vibhushan.
However, after 100 years of her life, she repented nothing, but missed reading detective novels and solving crossword puzzles, which she couldn't do anymore as she was unable to read and write because of her age related issues.
In the interview, she jokingly said that while she wanted to be a slender six-foot tall blonde girl with blue eyes and big bust, she enjoyed the simplicity in her look.