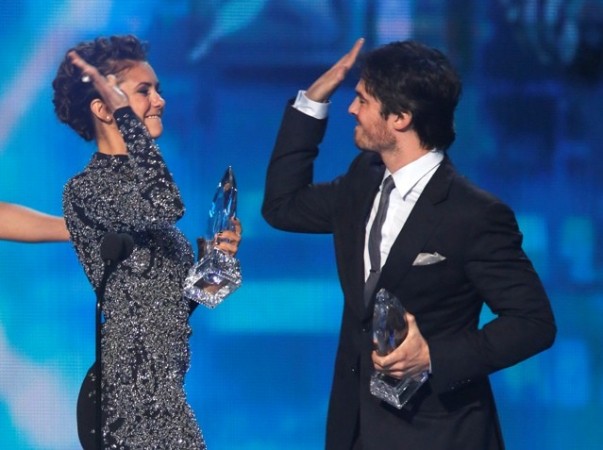 Their onscreen characters – Elena and Damon – are hooking up, and now it looks like Nina Dobrev and Ian Somerhalder cannot keep their hands off each other as well.
"The Vampire Diaries" stars attended PaleyFest 2014 last weekend in Hollywood, and reports indicated that either they are the friendliest exes ever, or there is something more to their relationship.
The couple, who went public with their relationship in June 2011 and announced their split in May 2013, were all smiles and there was a lot of high-fives and hand-touching, Celeb Dirty Laundry reported, adding that the couple might be hiding their feeling to prevent press intrusion.
Dobrev had earlier explained her chemistry with Somerhalder stating that even though they aren't together, they are still friends who respect each other.
"If you're with someone for that long, there's obviously the qualities in them that you enjoy and that doesn't change just because you're not together anymore," Dobrev told E! News in January. "I have an enormous amount of respect and love for [Ian] and everyone. That doesn't change, it shouldn't, otherwise why were you with them?"
Meanwhile, on Saturday, the couple was joined by their co-star Paul Wesley, and executive producers Julie Plec and Caroline Dries, who dropped a number of hints on what's in store for season five.
Speaking about their "The Vampire Diaries" characters, Somerhalder noted that a romance might be on the cards for the couple. "They have to put on their big-boy pants and big-girl pants," Somerhalder said, while Dobrev added, "The problem is they keep taking their pants off and that keeps getting in the way of things."
They confirmed that Katherine is really dead and that she would not be returning to show in the future. Caroline is going to be a crucial element, and there will be more of Stefan-Caroline relationship. There is also not going to be a love triangle between Stefan, Damon and Elena.
"After all the things these boys have done to her, she's going to be a lesbian," Dobrev joked, according to The Hollywood Reporter.