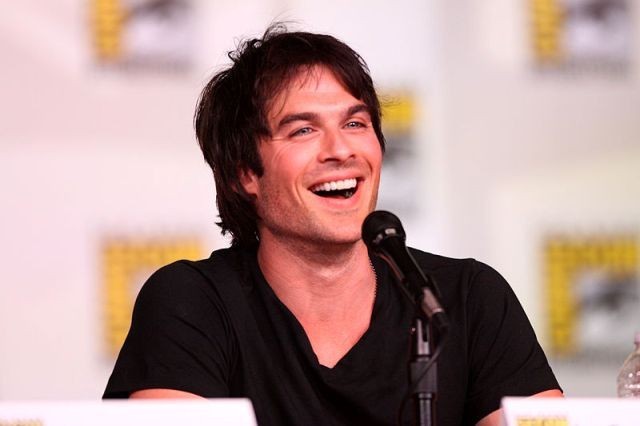 "The Vampire Diaries" star Ian Somerhalder has fuelled rumours of dating Molly Swenson, after the duo was spotted holding hands while attending a couple of events in Los Angeles.
Swenson is the COO at RYOT News, a company where Somerhalder is on the advisory board. Based on the couple's body language, their relationship appears to be more than just professional friendship, multiple reports indicated.
An E!News eyewitness stated that although Somerhalder and Swenson did not indulge in public display of affection, they remained close the entire time they were at Details Magazine party at 41 Ocean in Santa Monica on Wednesday night.
Later, the duo even headed out together to attend a cocktail party by Treats! Magazine. "Two of Ian's friends were in front and Ian and his date were following closely behind casually holding hands. They seemed happy, casual, and enjoying the evening," the eyewitness said.
While Celeb Dirty Laundry noted that couple holding hands indicated that they were either dating or hooking up, a source close to Swenson dismissed the rumors stating that they are just friends.
Swenson too took to her Twitter account to note that she has been off the market for over two years.
In recent times, Somerhalder, who split from his "The Vampire Diaries" co-star and girlfriend Nina Dobrev last year, has been linked to a number of women including Ocean Ramsey, an ocean conservationist.
Early this week, Somerhalder tweeted an article about Ramsey and added: "Umm, is she married??? Does she want to be???" indicating his interest in the environmentalist.
But it appears that there has been no other development on that front, and this has appeased Dobrev-Somerhalder fans, who want them to rekindle their romance.
Reports have it that Somerhalder and Dobrev were thinking of giving their relationship yet another shot, but nothing materialized as Dobrev reportedly started dating Michael Trevino who plays Tyler Lockwood in The CW series "The Vampire Diaries."
(ED:VS)