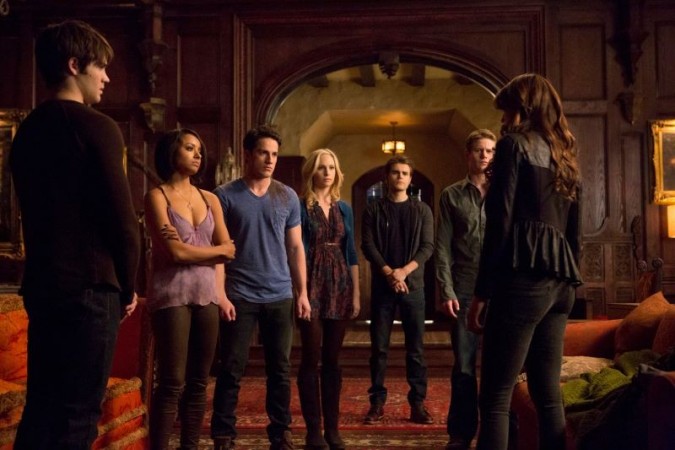 Katherine Pierce has finally left Elena's body and gone to hell. But before doing that she injected the vampire-eating virus into Elena's body, thereby giving her a deadly parting gift.
Interestingly, this tragedy might bring her closer former lover Damon, who is also a vampire ripper, according to the promo of the upcoming episode of "The Vampire Diaries."
The upcoming episode titled "While You Were Sleeping," shows Elena struggling to adjust with the changes happening inside her. She craves blood, and the only one who understands her urges is Damon. While he initially resists Elena, the duo shares a kiss, sparking speculations that romance is once again on the cards for Damon and Elena.
Meanwhile, their friends will have to make some difficult choices to save Damon and Elena, executive producer Caroline Dries told TVGuide.com.
"Elena is dealing with the turmoil and emotional damage left in Katherine's wake, but Elena is also dying. This virus is killing her. Two of our main characters have this incurable virus and they want to kill everyone, so what do they do? Our guys will have to make a deal with the devil to save their friends."
CW has not released an official synopsis of the episode, probably because the "The Vampire Diaries" is going on a two-week break. But, rumor has it that several new characters will be introduced when the series returns.
Luke, a gay vampire, is going to spice things up in the next episode. The character will be played by Chris Brochu, and he will be a student at Whitmore college who befriends Elena and Caroline.
It is too soon to say what shades Luke's character will take, but it is believed Luke appeared on the scene as a result of increasing tension between the witches and the travellers.
Meanwhile, the upcoming episodes have more surprises planned out for its viewers. A synopsis of Episode 17 shows that yet another doppelganger will be featured on the show.
"The Vampire Diaries" Season 5, Episode 16 "While You Were Sleeping" will air on CW on March 20.
(Edited by Vanilla Sharma)