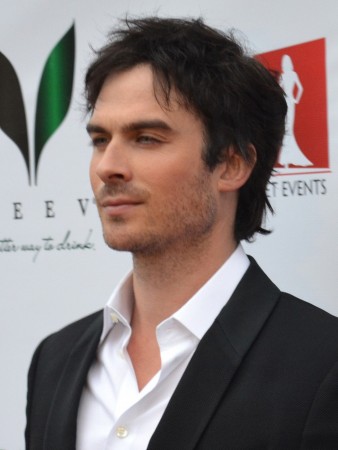 Nina Dobrev is reportedly dating her "The Vampire Diaries" co-star Michael Trevino, who plays Tyler Lockwood in the CW series.
There have been buzz about the duo's sizzling off-screen chemistry for some time now, and recently they once again churned rumor mills by posting online a photograph of them hanging out together.
The pair, along with a group of friends, recently spent a good day at a bowling alley, and Elena of "The Vampire Diaries" posted on Instagram several pictures of their fun day.
One picture showed Trevino holding a green bowling ball, and Dobrev captioned it saying, "There's a method to our madness' #DANGER #sundayfunday @michael_trevino @becombing @freshiamatl."
The pair has not commented on dating rumors, but this hasn't stopped "The Vampire Diaries" fans from speculating if their hook up has something to do with Ian Somerhalder's alleged decision to quit the series.
Fans of the actor went into frenzy in February, when Somerhalder tweeted about his excitement to visit Harvard, and rumors indicated that he was quitting acting. But he later clarified that he was there only to attend the "Girls Impact the World Film Festival."
Somerhalder also put to rest recent rumors of him quitting the show by tweeting that he was only taking a short break.
"The Vampire Diaries wrapping season 5 in 8 more work days-8 more wake ups!Take a break form Damon-explore the world-then do it all overagain," the actor tweeted.
Somerhalder is quite fond of travelling, and last year he jetted out to China soon after Christmas. He posted online a photograph of his passport with the message: "Do you know this guy? Would you let him into your country? Hmmm-that is the question... An airline named after my home-the Mississippi River Delta, taking me to China... Very cool."
In 2012, then girlfriend Dobrev accompanied him to the Asian country and the pair even took photographs with a few fans during their trip.
(Edited by Vanilla Sharma)