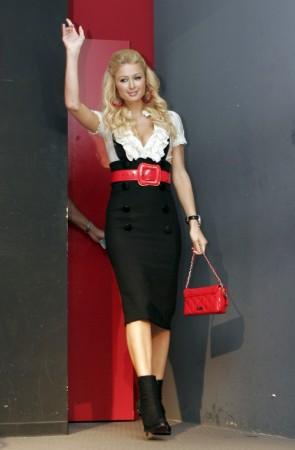 The American businesswoman and socialite, Paris Hilton revealed the secret of her names most important par - Paris - during her maiden visit to Mumbai.
Around the world media are frenzied to give titles for the American socialite and prodigal daughter of the Hilton family as "Billion Dollar Entrepreneur" and "Fabulous Fashionista". But the interesting part in her name is that instead of Paris Hilton, the American socialite would have been called as China Hilton.
"No, no, I wasn't conceived in Paris," said Paris Hilton when someone asked her how she got the name.
"My parents had thought of names like China and Paris for me and finally they opted for Paris," she explained.
"In fact, my best friend is called India," she added.
Meanwhile, the 30-year-old multifaceted Paris Hilton has expressed her willingness to work in Bollywood films.
"Yes, I have been approached to do Bollywood films. And I would love to do it. They are beautiful and I like them. But I am waiting for the right script," she said.
Talking to media, Paris has clarified the recent rumors about the news that Bollywood actress Kangana Ranaut was approached to endorse her line of handbags and accessories called "Paris Hilton" and participating in Karan Johar's talk show "Koffee with Karan" was just a "speculation".
"These are all speculations. People like to make up stories. I am here for business purpose only and it is a very short trip."
The socialite is in India to launch her line of handbags and accessories called "Paris Hilton" at Inorbit Mall, Malad, Mumbai.