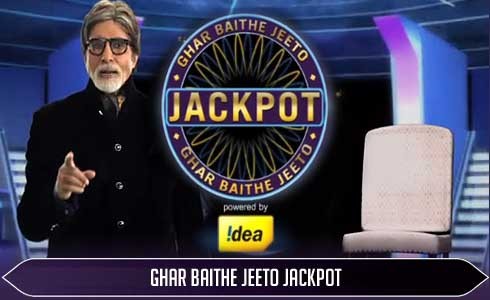 Sony Television created a new chapter in the nascent history of reality shows on Indian television, with its quiz show "Kaun Banega Crorepati" (KBC) which was first aired in 2000. Over the last decade, the show has gone through several phases and continues to be one of the more popular reality shows in the country.
The mega-show is broadly divided into 13 levels, at each of which the participant must successfully answer a question to proceed. The prize at the end of 13 levels is a gigantic Rs. 5 crores. In addition, new to this season is a viewer-friendly option called "Ghar Bheithe Jeeto Jackpot", which could allow you to win Rs. 1 lakh, simply by sending in a text message from your mobile phone.
Make no mistake... KBC is a money-spinning machine, not only for its onscreen participants but, now, also for those viewers sitting at home, in front of the television.
The big question, though, is where the producers of KBC generate that amount of money from. Consider the following figures, posted on moneylife.com.
"Airtel is charging Rs. 6/- per SMS sent for this contest. Assuming there are only 100 entries from say 10 cities of some 20 districts in 20 states. That works out to (Rs6/SMS) x 100(entries) x 10(cities) x 20(districts) x 20(states)=6x 100 x 10 x 20 x 20 = Rs.24,00,000. Imagine what if 1000 entries (came in) from 100 cities?" the report asks. The speculated amount could be as much as Rs. 24 lakhs!
Apparently the magnitude of these numbers hasn't gone unnoticed. According to a report on indiaconsumerforum.org, a voluntary consumer organization - The Society of Catalysts - filed a complaint before National Consumer Disputes Redressal Commission in 2007, alleging that during the season KBC had received 58 million texts (at the rate of Rs. 2.40 per SMS), which was "higher than the normal pulse/call rate or text messaging charges", according to the complant. In addition, the complaint also charged that the organizers only paid out Rs. 1 crore as prize money, despite making nearly Rs. 14 crores from texting charges.
Just for reference, as of the Telecom Regulatory Authority of India's (TRAI) statistics for July 2011, India has 858.37 million wireless subscribers. If each subscriber were to send one text to KBC, the organizers would make appalling amounts of money.
The secret behind the success of the show, as revealed by the show's producer-director, Siddhartha Basu, is a term called "Game Changer". Put simply, the fact that absolutely anyone can look to participate in the show (approximately 54 lakh people auditioned for the fourth season of KBC) and the enormous prize money on offer enables the creation of a unqiue image for the show, particularly in terms of the scale of its production.
It also helps, of course, the show is hosted by Amitabh Bachchan, who is, possibly, one of the most charismatic of Bollywood's frontmen. A point in this regard was when Shah Rukh Khan hosted a season - in 2007 - only for the show's Television Rating Point (TRP) to go down. They, however, returned, with the re-introduction of Bachchan. Last, but certainly not least, the success of Danny Boyle's "Slumdog Millionaire" (2008), in which KBC got something of a free promotion, must surely also be a factor in the show's continuing popularity.
Yet another simple technique that the producers use is the occasional appearance of a celebrity guest, like Bollywood stars and cricketers. So far, Bollywood star couple Ajay Devgn and Kajol have proven to be the biggest winners, walking away with a cool Rs. 1,00,00,000.
The newest buzz doing the rounds is over details of a special episode for Diwali. Reports suggest that Shah Rukh Khan may be lined up for a return - this time as a contestant!
Any bets on the number of texts for that particular episode?
KBC, it seems, has a long way to go.