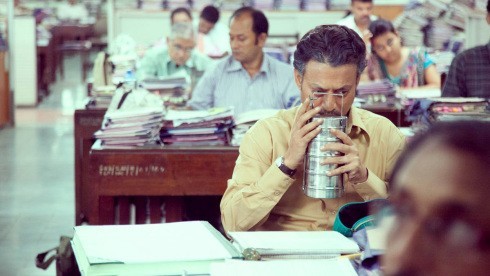 This Friday would see a box office clash between the internationally acclaimed "The Lunchbox" and Bollywood's commercial release "Phata Poster Nikla Hero" (PPNH).
Comparing the two films will be a highly questionable feat, taking note of their entirely different genres as well as the characters played by Irrfan and Shahid which are poles apart.
While "The Lunchbox" represents an unconventional love story between two strangers, triggered by a wrongful delivery of a tiffin carrier, "PPNH" promises to be a full-scale entertainer with Shahid playing a wannabe actor mistaken for a cop.
In terms of direction, "PPNH" is directed by Rajkumar Santoshi, known better for his cult comedy "Andaz Apna Apna" and 2009 blockbuster "Ajab Prem Ki Gajab Kahaani". "PPNH", aims to strike a similar chord with an ample dose of entertainment from the maverick director, best known for his gullible comic timings.
On the other hand, Ritesh Batra, who is at the director's helm for the "The Lunchbox", has three short films to his credit, but with relatively minimal impact. Even though Batra has avid presence in the international film festival circuit, it would hardly matter in the home market.
Secondly, the cast of "PPNH" is no doubt a popular choice with Shahid returning to the big screen after a year-long gap, and his pairing with Ileana D'Cruz. The actress had been well received in her debut film "Barfi!" and there are now expectations of their pairing-up in "PPNH".
To counter this, the credible cast of "The Lunchbox" includes Irrfan Khan, Nawazudin Siddiqui and Nimrat Kaur. Irrfan and Nawazuddin have already proved their mettle and by the looks of the film's promos, even the deglamorised Nimrat Kaur looks appealing and convincing in the role of an unattended, lonely wife.
Then there is the distribution and marketing issue. As "PPNH" is distributed by Tips Movies, there are expectations of a wider screen release given its commercial entertainment quotient. On the other hand, "The Lunchbox" might have an edge given its backing by Karan Johar's Dharam Productions.
Coming to the most governing factor of both films, i.e. the content, "PPNH" promises to be a wholesome entertainer with an ample dose of comedy, laughter and a romance plot, it is most likely to be a popular choice. However, in this aspect, "The Lunchbox" scores an edge with its timeless theme of 'love', which has been made tempting with the unfamiliar set of circumstances and the love-notes exchange .The film also revels in a secondary plot with a focus on Irrfan and Nawazuddin's budding friendship.
Getting down to the basics, this week's releases will be a tough choice. "The Lunchbox" is already gaining word-to-word publicity and its list of international acclaims would provide tough competition for the masala flick "PPNH".
Prediction: It is absolutely difficlut to give "The Lunchbox" a miss, but at the same time the long-standing popularity of classic masala flicks, like PPNH", will never lose its charm.