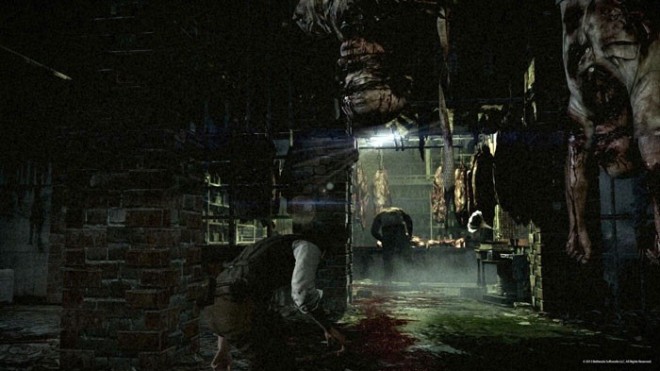 Shinji Mikami, the director of the upcoming survival horror video game, The Evil Within shows the amount of horror and spooky elements in the trailer released at the ongoing gaming event, PAX East 2014.
Though, many might find the imagery right from the poster that shows a character screaming as he is covered by a barbed wire, the video too can scare the hell out of you.
Mikami, known to most as the father of survival horror, gives a demonstration of the game that will be rolling out on 26 August for PC, PlayStation 3, PlayStation 4, Xbox 360 and Xbox One with the release of the video. The game will have "Highly-crafted environments, horrifying anxiety and an intricate story weave together to create an immersive world that will bring players to the height of tension," according to the official website.
The video game allow players to control the character of Detective Sebastian Castellanos who lands at a mysterious place and who is attacked, only to wake up in a place that is crawling with monsters and weird creatures.
The video will remind you that the game has its roots in Resident Evil 6, GameSpot reported. The video opens to the scene of a murder that Castellanos and his partner go to investigate. And after being hit, he wakes up in a burning and fallen ambulance in a mysterious place. We see the character walking past dead creatures with creepy environment. We can see the weather system as the smoke and leaves blowing around the place in a dark setting with lights visible here and there and lot of dilapidated structures.
He manages to enter an old bungalow where he finds a creature sitting in a dark place and when it turns, it does not have a face, but he is suddenly transported to a sunflower field and the music turns sweet as he is seen being carried into a guillotine and the video shows scenes of blood gushing through an entrance, a rolling iron spikes attacking, a man with a white mask coming with an axe, a giant monster gabbing him, a bogeyman throwing another into the bon fire, a butcher working with a body and Castellanos' vain attempts at opening a door.
The video also takes us across quick frames of a scary doctor, water creature and the character being given shock treatment. A new wizard ghost (looks like an assassin) makes the entry. He is shown to have magical powers and the character taking to him asking him if he is going crazy.
The video also shows the main character firing weapons and using knife. We can also see some zombie-like creatures and man with a caged head.
The video has its surprises and twists and this makes a promising game to play.
(YouTube Courtesy: Bethesda Softworks)

Photo credit: theevilwithin.com
(Ed:AJ)