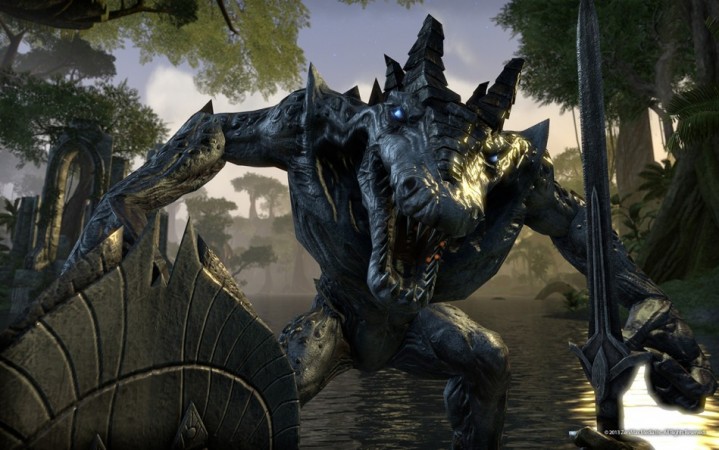 ZeniMax Studios, the developer of MMORPG title, The Elder Scrolls Online, discovered a new item duplication glitch that allowed players to duplicate the items in their bank. And once these items were safely deposited in the bank, players were able to withdraw these items repeatedly.
"Yesterday, we identified an item duping bug in ESO that some players chose to exploit. We acted quickly, and have since fixed the issue. We have a zero tolerance policy when it comes to abusing exploitable bugs, and those who were found doing so have has their game account permanently banned," reads a post on the official Forum.
The bug has been fixed following a patch 1.04 from the developer. It has also banned players exploiting this glitch. The company has also asked players whose accounts were legitimate to contact them if their accounts were affected.
The Elder Scrolls Online is the newest from the developer, was released on 4 April 2014 for PC and Mac. The game is a part of The Elder Scrolls series and this is the multiplayer version of the game. ZeniMax has also planned to release the game on PlayStation 4 and Xbox One on 30 June.
The game allows players access to four classes - Dragon Knight, Templar, Sorcerer and Nightblade. It has a nonlinear gameplay where it is a mixture of quests, events and the company encourages the players to explore the gaming world.
The glitch was reportedly existed even in the beta phase of the game, but the developer took so long to patch the glitch. It was further suggested that this might not be the only glitch that might be seen in The Elder Scrolls Online, since there will always be players trying to beat the rules. Players must note again that this glitch will get them banned from the game.
Image credit: elderscrollsonline.com
(Ed: AJ)