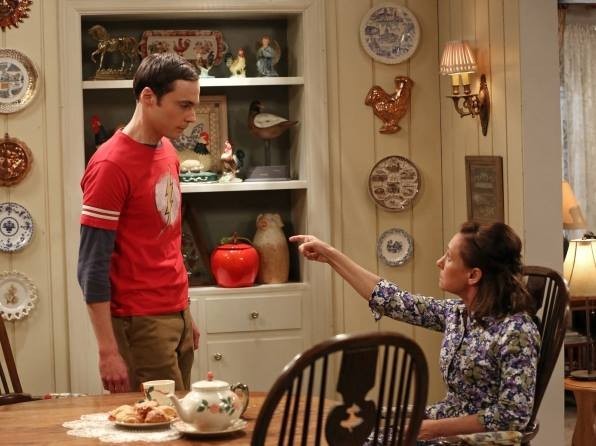 Sheldon Cooper might not like changes but in the previous few episodes of "The Big Bang Theory" season 7 he has been forced to deal with quite a few, including taking his relationship with Amy to the next level.
Amy got her best Valentine's Day gift when Sheldon kissed her, proving he is capable of an intimate relationship. But is he ready to take the next step?
The upcoming episodes might answer that but this week Sheldon will be forced to accept yet another change when he visits his mother in Houston.
Thursday's episode of "The Big Bang Theory" saw Sheldon visiting his mother and gets the shock of his life when he sees his mother with another man.
"I saw my mommy with a naked man!" Sheldon tells Howard, "And she was trying to be a mommy again!"
Instead of knocking on the door, Sheldon bolts to the car and finally finds refuge in a bar. While Sheldon has almost made up his mind to tell his mother that he would never forgive her, Howard dissuades Sheldon saying he should not get in the way of his mother's happiness.
"Do you have any idea what it's like to see your mother ravaging someone?" Howard responds, "Does a brisket count?"
Laurie Metcalf reprises her role as Mary Cooper, and with her no nonsense Texas attitude she puts Sheldon in his place, when he accuses her of "fornicating like a demonic weasel".
Sheldon gets sent to his room when he returns home and calls her a pervert. Later, the mother and son have a heart-to-heart talk where Mary concedes to not being perfect, and Sheldon ends up talking to her about condoms.
Now that he has accepted his mother as a sexual being, will Sheldon decide to take his relationship with Amy to the next level?
Going by Raj's predictions, there will not be any change in their relationship in the next 20 years. During Raj's murder mystery dinner, the group reads Raj's future cards for them, and Amy and Sheldon's relationship is said to be somewhat similar to what it is now.
But for Penny and Leonard, it's splitsville. Raj predicts the couple will put their work ahead of their relationship and this will create a wedge between them.
Following the prediction, Penny and Leonard fight and Stuart intervenes to assure them they are perfect for each other.