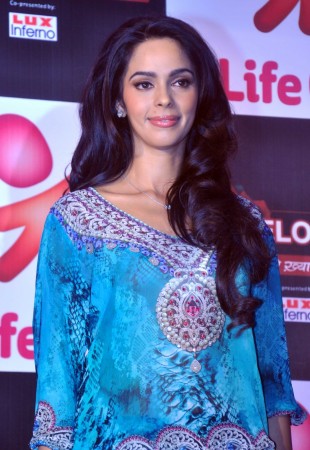 Mallika Sherawat has created a major stir in her television show "The Bachelorette India" reportedly by kissing one of her suitor's in the show.
The bold actress who has to choose the perfect suitor in the reality show apparently got intimate during a date with contestant Vijay.
As the show nears its final stage, the top five contestants had to impress the diva by setting up special dates.
Contestant Vijay, who had set up a heart-shaped sitting area with flowers and candles won over the actress's heart with his sweet talks. The date ended with the actress getting intimate with him as she locked lips with the lucky contestant.
However, post the incident she got overtly emotional, reported The Hindustan Times. She recalled her past relationships and "how people have always tried to use her." She also spoke about how she was expected to film a kissing scene in most of her films. The actress explained that there is so much more to her than the bold scenes.
Mallika's kissing stint is not an uncommon scene in her movies but the act is a first for the actress when it comes to television.
The reality show has till date seen several situations right from the gifting of goat to the actress, to the actress getting emotional and stalling the shoot after being foul mouthed by some contestants. Recently, the actress's estranged parents appeared in the show but the episode turned out to be a spoiler as arguments between Mallika and her father led the latter furiously walking out of the set.
Mallika's kissing episode is likely to be aired on Thursday in Life Ok and the reactions of other suitors are yet to be seen.