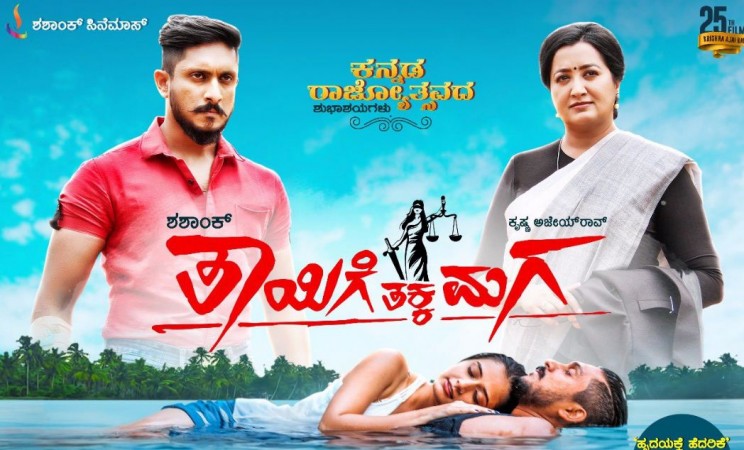 Thayige Thakka Maga marks the third union of Shashank with Ajai Rao after Krishnan Love Story and Krishna Leela. Taking a break from romantic subjects, they have joined hands for an action-packed drama which has Ashika Ranganath playing the female lead and Sumalatha Ambareesh enacting the role of hero's mother.
The opening scene itself tells about the values the lawyer mother and her son Mohandas (Ajai Rao) believe in. When the law fails to punish the wrongdoer, her school-going son vents his anguish by throwing a stone at him. The mother-son bonding is at such level that she bails him out of legal troubles every time he breaks the rules and lands in court.
The story lies in one such trouble after the spoilt son (Saurav Lokesh) of politician Santhosh Kaale kills the parents of a boy in an inebriated state and leaves him seriously injured. Mohandas and his mother now fight to get justice for the victim. Parallely, the hero falls in love with a girl (Ashika Ranganath). Although she does not reject his offer, she is concerned over his bad temper and the ways he picks up fights at the drop of a hat.
On the other side, the politician wants his son to see as a Chief Minister someday and the case becomes a threat for his political career. The tricks he uses to win the case and how Mohandas with his mother fight for the justice form the crux of the story.
The first half is loaded with action, romance and comedy, but somewhere things go haywire in the second half and it becomes quite dragging towards the end although the idea behind the climax needs to be hailed.
Expressions, mannerisms and action, Ajai Rao excels in everything, but the needless aggression in dialogues is a turn-off. Sumalatha effortlessly pulls off her role of a lawyer and it is a treat to see her bonding with Ajai Rao in the film. Last but not least, Ashika's chemistry with the hero works out well. Judah Sandhy's BGM is apt and Hrudayake Hedarike is the pick among the lot.
Overall, Shashank's Thayige Thakka Maga is a watchable commercial fare with a dose of message.