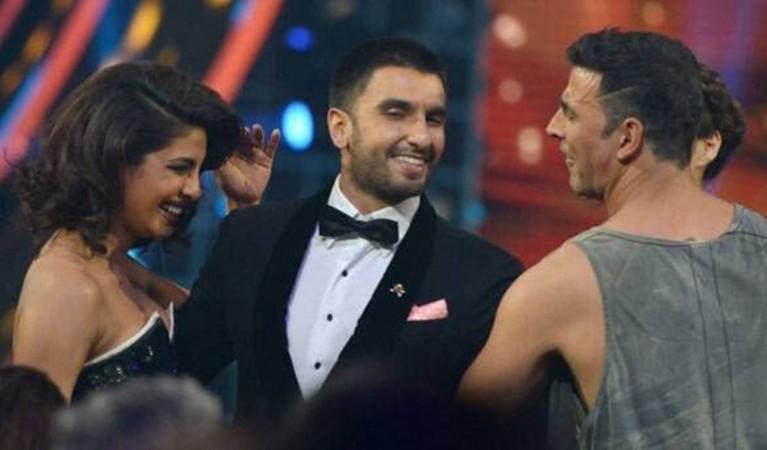 Rumoured ex-lovers Akshay Kumar and Priyanka Chopra found themselves in a rather awkward situation during the Zee Cine Awards 2018 night when the latter performed on Mujhe Shaadi Karogi song in front of the former.
"Akshay and Priyanka's team earlier have always ensured that both are not present at the same venue at the same time. Not that there is any awkwardness between the two stars as both have moved on tremendously ahead in their respective careers, but just to avoid any unnecessary media speculations. This time apparently some miscommunication happened between them," a source was quoted as saying by Pinkvilla.
"Last night at the Zee Cine Awards, Akshay arrived a few minutes earlier before he was presented the award. When he came and sat down, Priyanka's scintillating performance started amidst much sparkle and dazzle. After Akshay was seated, Priyanka entered and her first song was Teri Chahaton Ke Jal Se from Akshay and Priyanka's hit film Aitraaz," the source added.
But the fun began when cameras were turned towards Akshay when Priyanka was performing on the stage. As Priyanka performed on stage, Akshay walked away with the Viewer's Choice Best Actor Male for Jolly LLB 2 at the awards ceremony.
"Amidst it all, the camera kept panning to Akshay's face which of course they will show on television. Of course, the superstar had to watch the show as he had walked in a few minutes early. Akshay seemed to be enjoying it like he would, any other star's performance. Fact is, that because
of the timing he had no choice but to wait it out," the source said.
Akshay Kumar and Priyanka Chopra's rumoured relationship goes a long way back to the year 2003 when they shared the screen together in Andaaz. As the film was a box office hit, they signed for a couple of more films together and that was when the two hotties got closer to each other. That time Akshay was a married man and a father to an eight-month-old son.
While the two haven't confessed being in a relationship in public, it looks like the rumours of their love affair have remained fresh in the minds of the moviegoers.