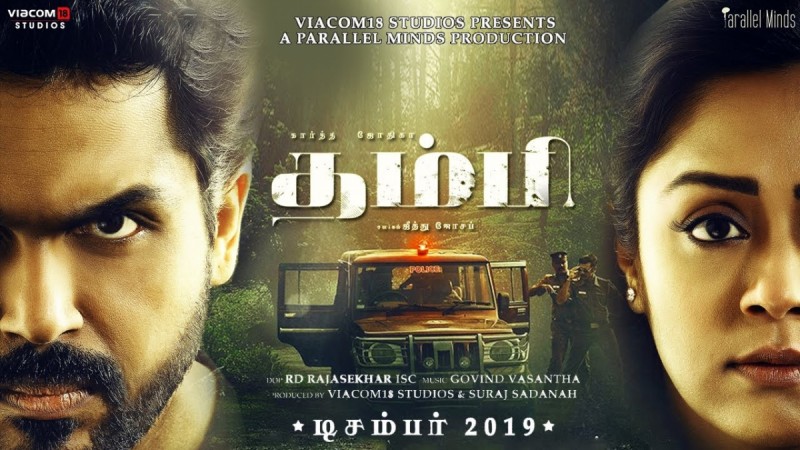 Jeethu Joseph of Malayalam blockbuster Drishyam fame has back to Kollywood with his latest movie Thambi. The filmmaker has cast Karthi and sister-in-law and actress Jyothika in the female lead.
The movie has Sathyaraj, Nikhila Vimal, Anson Paul, Bala, Sowcar Janaki and others in the supporting cast. The movie has Govind Vasantha's music, RD Rajasekhar's cinematography and VS Vinayak's editing.
Story:
The movie revolves around Saravanan (Karthi) and Jyothika (Parvathi), siblings in Thambi. The brother goes missing in childhood. He grows up to become a criminal and the drama that unfolds when he meets his family members decades later forms the crux of the story.
Hype:
Thambi is releasing a week after Jeethu Joseph's Hindi movie The Body, which has Emraan Hashmi, Rishi Kapoor and Vedhika, hit the screens. Known for thrillers, the fans are now looking forward to see a highly-entertaining entertainer packed with lots of emotions.
Whereas Karthi is returning after delivering a hit in the form of Kaithi just two months ago. Will the latest film live up to the expectations? Check it out in the viewers' words below:
Ramesh Bala: #Thambi [3.5/5] :
@rdrajasekar camera work is good..
@govind_vasantha BGM is solid..
Dir #JeethuJoseph maintains the tempo all through..
Its the twists and turns that make it a winner..
And the combo of @Karthi_Offl - #Jyotika and #Sathyaraj
#Thambi [3.5/5] : An unpredictable thriller set in a family backdrop.. Twists and turns keep u engrossed..
@Karthi_Offl is fantastic.. He is the lifeline of the movie..
#Jyotika has done well..
#Sathyaraj another seasoned performance..
@Nikhilavimal1 in a pleasant role
Haricharan Pudipeddi: After the heavy-huty action thriller Kaithi, #Thambi allows
@Karthi_Offl to slip into a laid-back role and it's a delight to watch him try his hands at comedy after a while. #Jyothika is equally good in a role that portrays her in a very different light.
Thoroughly enjoyed #Thambi. A family drama with some delicious twists and a cracker of a finale. In the family set up, #JeethuJoseph has somehow mastered the art of surprising audiences and he gets it superbly right yet again. The team has a winner
Kaushik LM: #Thambi - 3.5 /5.
@Karthi_Offl's dream run will continue. After #Kaithi, this ought to be another Hit for him, in a totally different genre. He's in fine form
Welcome return to Kollywood for #JeethuJoseph after Papanasam. Some Drishyam flavour is there here too GO FOR IT
#Thambi 2nd half - Solid stuff throughout, with terrific trademark #JeethuJoseph twists and turns The thriller elements and family drama work big time.
Sureshot Hit, Safe Bet.. Family audiences will love it
#Karthi #Sathyaraj #Jyotika @Nikhilavimal1
My rating - 3.5/5
#Thambi 1st half - There's a strong Malayalam film flavour in the film obviously due to the #JeethuJoseph factor.
@Karthi_Offl is in a jolly happy space, in stark contrast to his #Kaithi zone. #Jyotika is mostly serious and stern so far.
The 2nd half has good potential. Paarpom
#Thambi 1st half: @Karthi_Offl provides max entertainment with his charismatic presence. The film moves on as a breezy family drama with an interesting interval block moment.
@Nikhilavimal1 impresses in a lively role, with a nice love song
Little Rasukutty's scenes are cute too
Sathish Kumar M: #Thambi - A Mystery Family Drama with wonderful performances from
@Karthi_Offl #Jyothika #Sathyaraj & small kid #Ashwanth
Slow paced family drama with a small twist in the interval and big twist in the climax. #Ashwanth & #sowcarjanaki scenes with
@Karthi_Offl has come out well
Rajasekar: #Thambi - Besides @Karthi_Offl, solid show by all the actors including #Sathyaraj, Jyotika, &
@Nikhilavimal1. A lot of twists and turns there in the film so avoid spoilers.
@govind_vasantha 's BGM (sounds new & refreshing ) and @rdrajasekar cinematography are big plus
#Thambi - 3.5/5, yet another quality film from @Karthi_Offl. A perfect follow-up movie for him after #Kaithi. The first half is in breezy family zone, second half in 'Drishyam' thriller mode. The tag 'A Jeethu Joseph film' has been justified
@Karthi_Offl's combination scenes with Master Ashwanth of Super Deluxe fame & Sowcar Janaki also bring in a lot of fun moments. #Thambi
#Thambi first half - An engaging family drama where
@Karthi_Offl's shines with his comic timing. A couple of twists paces up the narration. The ensemble actors including Sathyaraj and Jyotika give a wholesome family entertainer feel. Good so far
@Karthi_Offl in #Thambi Feel a good Family Subject Movie @new_cine FDFS 8Am Show once again Proof #Karthi Anna and #Jothika Anni. good Acting #Sathyaraj sir Performance ?? @rajatalkiespdy @RRSundarSKFC @Karthi_AIFC @KarthiFans24x7 @Nirmal_twetz @BHUVAN_SURIYA