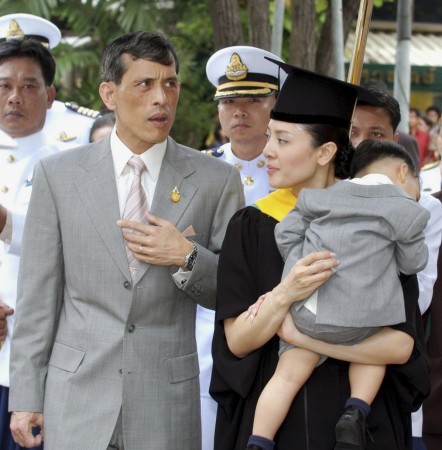 Thailand's heiress to the queen's throne relinquished her royal status weeks after her family was embroiled in a corruption scandal.
Princess Srirasmi, the wife of Crown Prince Vajiralongkorn, had sought permission to relinquish her royal title, which has been accepted by King Bhumibol Adulyadej.
Several of Srirasmi's family members were stripped of their royal status last month by the Thailand government on the orders of Prince Vajiralongkorn, after they were named in a corruption scandal involving senior police officials.
The Prince had also forbidden the family from using the royal name 'Akkharapongpricha' which was an honorific title, as several of Srirasmi's relatives were accused of misusing the royal title for bribery and extortion.
Srirasmi's uncle, who was a police general, was arrested last month over a corruption scandal that involved smuggling and gambling to amass wealth. Six other family members were also arrested.
"The King has granted permission to announce that Princess Srirasmi, the wife of Crown Prince Maha Vajiralongkorn, has informed in a written document that she has resigned from her royal status," the statement from in the Royal Gazette said, as reported by The Bangkok Post.
The news comes at a time when the royal family is plagued with issues relating to the King's health and the possible separation of Prince Vajiralongkorn and his wife.
Prince Vajiralongkorn will succeed his ailing father as the King, and Srirasmi was in line to have taken the queen's role.